Our Supervisory Management Courses are for those who are currently involved in, or about to undertake, a supervisory management position.
What is this Supervisory Management Course about?
This is a practical and clear guide to supervising and managing staff. You will learn how to deal with people in a positive manner. You will be given guidelines on how to deal with all types of people and earn the respect of the team. By the end of the course people who attend will feel confident dealing with team members and also more senior members of management.

Course Content

The Next Step

Locations

Group Training

What is covered in this Supervisory Management Course?
Making the change to being a supervisor.
Dealing with staff.
Planning and organising.
Time Management.
Delegating and work allocation.
How to motivate people.
Using motivational techniques.
De-motivation - the symptoms.
How to deal with people problems.
Managing performance and maintaining discipline.
Communication skills, both written and oral.
Team building and leadership.
The varying styles of supervision and management.
Full Course Brochure
If you would like to instantly download a brochure or receive a brochure by post please click the links.
In-Company & Group Training
Professional Development has over 25 years experience of providing customised training programmes for a wide range of organisations. We do not simply provide you with an 'off the shelf programme', we deliver to meet your specific needs. Find out more
Our Supervisory Management Course Rating: 8.5 out of 10, from 12 client reviews.
The Next Step…
After a great training course, the natural questions are "What next?", "What else can I learn?" and "How can I progress these skills even further?"
Continual development is the sign of a healthy career. Those who are steadily learning and adding to their personal skillset will always have plenty of new challenges, career paths and achievements on the horizon.
Take a look at some of these "next step" options that we feel will benefit you once you have completed our Supervisory Management Course.
Why not give us a call to discuss the best follow-on course for you?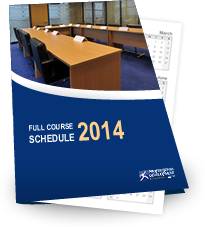 Our Supervisory Management Course runs in Dublin, Cork, Galway and Limerick
Download the Supervisory Management Course schedule for 2014. This includes all the locations and dates for 2014.
In-Company & Group Training
Professional Development has over 25 years experience of providing customised training programmes for a wide range of organisations. We do not simply provide you with an 'off the shelf programme', we deliver to meet your specific needs. Find out more