What is the DMAIC Cycle?
If you're familiar with Lean Six Sigma or Process Improvement, you may have heard the term "DMAIC Cycle".
Put simply, the DMAIC Cycle is a model for effectively implementing Lean Six Sigma process improvement.
It's a 5-step cycle that guides practitioners through the necessary stages for enacting sustainable, positive change within an organisation or a process.
DMAIC stands for:
Define
Measure
Analyse
Improve
Control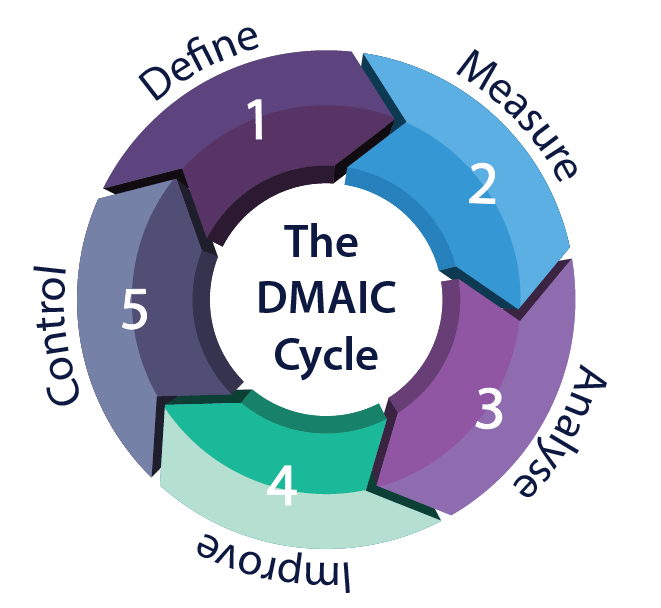 In this article, we'll break down each of these stages and give you guidance on how you can get to grips with using this transformative model in your work environment.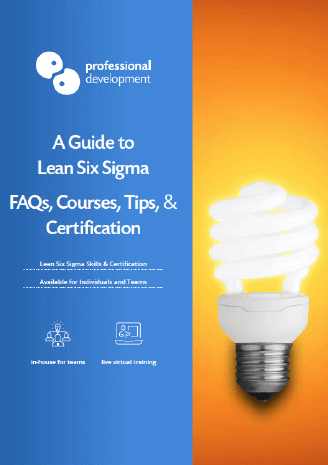 Get an Instant Overview
Our Guide to Lean Six Sigma offers a strong introduction to understanding lean six sigma.
It also includes tips and guidance on choosing the right course and certification to help you get started.
What are the 5 Steps of this Six Sigma model?
Think of each lean six sigma project like a journey, with the 5 stages of the DMAIC Cycle as points along the journey. They follow a logical sequence for understanding the process, identifying opportunities for improvement, making, and finally sustaining improvements.
Process, Project or Service?

Throughout this article, we refer to "improving a process", but Lean Six Sigma and the DMAIC Cycle can be applied to improving a service or product, or to managing a project.
D – Define
What must be done?

The first stage on the cycle is where you get very clear about what you want to achieve. This is where you identify the problems you want to solve.
M – Measure
What is currently happening?

In the Measure stage, you will review the process as it is right now. Take time to paint a detailed, accurate picture of everything that occurs within the process.
A – Analyse
Review the data you have gathered

Once you have thoroughly detailed the current state of your process, it's time to evaluate your findings. The Analyse stage is all about getting to the root of existing problems and understanding why blocks to productivity exist.
I – Improve
Begin implementing improvements

This is the stage for devising and implementing solutions. The tools you'll use for this stage of the DMAIC Cycle are key to finding improvements that will be both effective and sustainable for your business.
C – Control
Maintain the improved standards

Keeping focus on sustainable, the Control phase is about ensuring that the improvements remain in place. There are techniques for this that will support the ongoing application of your improvements.
Let's not forget the word "Cycle"
DMAIC is called a "cycle" for good reason. As with everything in continuous improvement, the intention is that this cycle can run indefinitely.
Once you have reached the end of a particular cycle, you can begin at the Define stage again, either for the same process or a fresh task or process.
Lean Six Sigma DMAIC Cycle and the 5 Lean Principles
The Lean Six Sigma DMAIC Cycle is
complimented and supported
by the 5 Lean Principles.
These 5 principles were championed by Daniel T. Jones and James P. Womack, founders of the
Lean Enterprise Institute
.
The
5 Lean Principles
are:
1. Establish Value:
What value does this process / service / product provide?
2. Map Value Stream:
What are the steps involved?
3. Create Flow:
Analyse the process
4. Establish Pull:
Understand your customer / stakeholder needs
5. Pursue Perfection:
Always look for ways to continuously improve You can read more about these signposts in our article,
"What are the 5 Lean Principles?"
.
How can I implement the DMAIC Cycle in my work?
Almost everything in Lean Six Sigma training revolves around the tools and techniques you'll use for following the steps of the DMAIC Cycle.
While the stages seem logical, it's extremely important to understand how you can use the right approach for achieving improvements.
Our yellow and green belt courses follow the flow of the DMAIC Cycle, incorporating the skills and methodologies used within each stage.
We blend practical and theoretical learning to help build confidence in your ability to implement Lean Six Sigma techniques.
Both courses are available online in a live, trainer-led, virtual classroom style.
No previous experience is needed for these courses. The main differences lie in how much material is covered over the duration of the training (2 days vs 5 days).
Lean Six Sigma Yellow Belt – 2 Days – Live Online Training - €395
We call this coursde "the perfect introduction".
It is an ideal choice for anyone who wants to begin learning about lean six sigma and come away with useful capabilities they can begin applying immediately.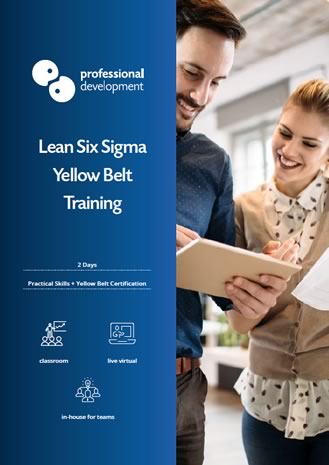 Lean Six Sigma Green Belt – 5 Days – Live Online Training - €950
Our Lean Six Sigma Green Belt course is extremely popular.
It is suitable for anyone who wants to become knowledgeable and confident in the use of lean six sigma process improvement techniques.