Why is our Yellow Belt so Popular? (5 Reasons)
Our Lean Six Sigma Yellow Belt training has been growing in popularity this year.
Yellow Belt Training and Certification is an excellent starting point for anyone who is interested in Lean Six Sigma or any kind of process improvement.
In this short article, we review 5 reasons our Yellow Belt Courses fill up so quickly. We also give you the resources you need to get started on your Yellow Belt certification.
You can learn everything you need to know about our Lean Six Sigma Yellow Belt Course by instantly downloading our PDF brochure.
This brochure gives you a full course outline, key benefits, and more information about how we run our Yellow Belt Training.
In this Article:
5 Facts About our Yellow Belt
1. It's ridiculously convenient
Our Lean Six Sigma Yellow Belt has a short, intensive duration (2 days), and is accessible from anywhere. You can connect to our live virtual training online from wherever you are located.
2. It's perfect for beginners
We call this Lean Six Sigma Yellow Belt our ideal "jumping off point". If you're interested in learning about Lean Six Sigma, this is the place to begin.
The course is designed as a practical and theoretical introduction to process improvement.
3. It suits all backgrounds
No matter where your career path has taken or will take you, the skills and knowledge you'll learn during our Lean Six Sigma Yellow Belt will be relevant and applicable.
4. It's delivered by certified Black Belts
Our Lean Six Sigma trainers earn rave reviews from students from every course (see below for some recent examples).
They combine extensive, hands-on Lean Six Sigma experience, robust Black Belt qualifications, and an engaging training style.
5. You'll gain a Lean Six Sigma Yellow Belt certification
We hold an open-book exam during day 2 of this Yellow Belt Course.
You'll gain a Professional Development Lean Six Sigma Yellow Belt Certificate, underlining the knowledge and skills you gain during training.
What our Yellow Belt students say:
Here's what some of our recent participants on live virtual Yellow Belt training had to say about their experience.
A good overview and introduction to lean six sigma but also practically oriented and leave with templates to apply right away. [Live virtual training] actually worked a lot better than I thought! White board and breakout rooms made it feel almost like a F2F course.

The course was well prepared and very clear, well-paced with lots of interaction. Discussions were very helpful to bring the course content to life – seeing application practically really stress tests your understanding. Also a great opportunity to meet people from different backgrounds and seek different understanding.

The training consultant was great – very proactive and kept in touch, very efficient booking and updates on change in dates, other options etc. I think the trainer was great and really took account of everyone's background and used it to bring real life examples.

The discussions and exercises were the best part of the course. Having the opportunity to hear other people's thoughts and approaches was so helpful. We were very fortunate to have an engaging and helpful trainer. His pace and delivery of the course content was perfect.

The tutor's ability to engage with everyone on [live virtual training] and to give input at exactly the right time. Also, the breakout sessions were very instructive. It's also very practical. The tutor was very patient and took the time to answer all questions. It was very much appreciated.

Booking process was very straightforward. I much prefer in-person classroom training situations, it's very difficult to build trust or rapport online. I'm very impressed that the tutor kept his energy levels up because it was a lot of talking over two days. Overall experience was positive, I hope to return next year to grade for a green belt.

The programme was very well organised and I appreciated getting the notes a few days beforehand. The course content was very clear and well laid out. A found the exercises and discussions very helpful as it was interesting to hear other people's views and opinions. Some of the exercises were of a trivial subject but made you think the correct way.

Training consultant was very helpful and was always on hand to address any concerns I had. And I found the trainer very helpful and approachable. The course was well-laid out over the 2 days. I liked the fact the tutor paused after every slides to make sure everyone understood the information and to answer any questions.

I was unfortunate to have poor internet connection for the live virtual classroom; however the tutor took that into account and was accommodating. I found the people in Professional Development very helpful and approachable.

I enjoyed this experience and it certainly relates well to the nature of our business and daily tasks. I would be encouraged to undertake again, if afforded the time and focus to do so.

The course was well laid out and presented professionally by the trainer, who was very familiar with the material and resultant time to present and engage with the attendees. The content was well laid out and presented at an acceptable pace for comprehension. The trainer provided a very involving course on a suitable level for all participants. It was delivered at a high level of competency by a knowledgeable trainer.

The strength of the course was the ability to develop relevant content and deliver it in a manner that is easily related to a variety of business roles and tasks, that require the thought processes encouraged by Lean Six Sigma concepts.

[Virtual training] has become the new norm and is probably a much leaner and efficient way to do business. I believe this is a means of communication that is here to stay.

Trusted For Yellow Belt Training By: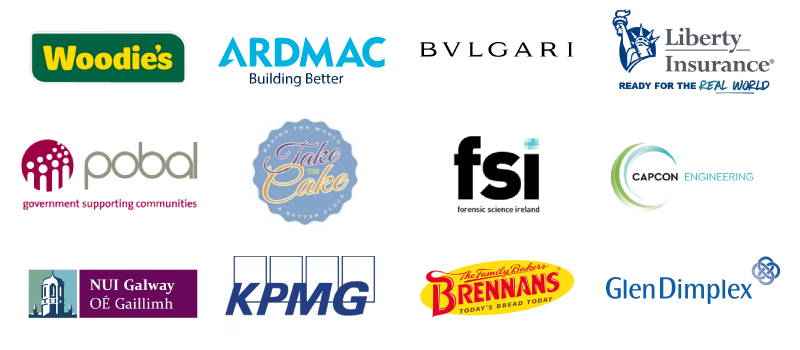 Attend our Yellow Belt Course
Our next live virtual training Yellow Belt dates are now open for booking.
Click on the "Reserve" button for either date below to instantly hold a provisional place on an upcoming Yellow Belt training date.
If you have any questions about our Yellow Belt Course, or would like to book your spot over the phone, we'll be happy to help.
You can reach our training consultants by calling Freephone 1800 910 810, or click below to request a call back.