Want to get Scrum Master Certified this Year?
If you're thinking about becoming a certified Scrum Master, we've got two flexible options to choose from:
Both Options Include:
180-day access to online course materials
Your Scrum Master Certified (SMCTM) online exam & certification
Let's take a quick look at what's involved in each format. We'll also give you some tips on choosing the right option for your training and certification.
Get Full Details

Download our PDF Scrum Master Certified brochure for full details on both training formats, a course outline, and all details about this Scrum Master Certification.


Scrum Master: Live Virtual Classroom Training
This online learning option gives you the benefit of an in-person classroom course while connecting from home. You'll gain:
2 days in a real time, focused learning environment with a certified Scrum trainer
the ability to ask questions and receive feedback from our trainer
180-day access to our online course materials following training
We recommend live virtual classroom training for those who prefer to set aside focused, dedicated time to achieve their goals. Many students find the intensive, trainer-led environment is key for success in this approach.
Live virtual training is also the right fit for anyone who would like the guidance and knowledge of an expert Scrum trainer.
Scrum Master:Self-Led Online Training
Live virtual and classroom-based training have always had a strong fan base. However, our self-led Scrum and Agile online courses have been gaining a lot of popularity too this year.
The key advantages of this self-led style include:
This on-demand training option enables you to begin whenever you're ready.
Learn at your own pace, with a 180-day access to our online course materials.
This style of training fits into a hectic schedule.
This format suits those with busy lifestyles that don't allow for 2 days of training. We also recommend our self-led option for anyone who prefers to learn at their own pace.
What Scrum Master Certification will you gain?

Both of these training styles lead to a SCRUMstudy Scrum Master Certified (SMCTM) certification.
SCRUMstudy are the largest established provider of Scrum and Agile certifications worldwide. We are a SCRUMstudy Authorized Training Partner (ATP).
Good to Know
Your Scrum Master Certified qualification is globally recognised.
You'll learn versatile, relevant Scrum skills that can be applied in any industry.
You don't need any experience for this Scrum Master Certified course.
Trusted For Agile & Scrum By...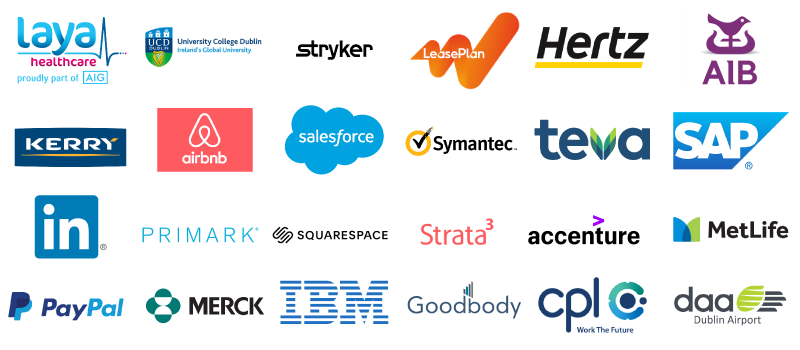 Get Advice from a Certified Scrum Master
Our training consultants are certified Scrum Masters and can offer guidance on the right choice for your training and certification.
Call us at Freephone 1800 910 810 or Dublin 01 861 0700 during office hours. Alternatively, use the buttons below to get in touch online.