Is Lean Six Sigma Yellow Belt Worth it?
Of course, our answer to this question is "yes, Lean Six Sigma Yellow Belt is absolutely worth it!".
In this short article, we outline why it's worth your time and resources to complete a Lean Six Sigma Yellow Belt course and certification.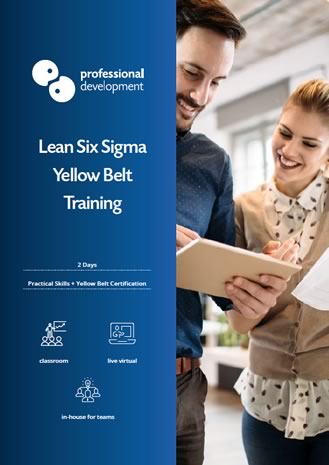 Get a Guide to Yellow Belt
Download our Lean Six Sigma Yellow Belt brochure for a complete PDF guide to Yellow Belt.
The brochure includes all of the information in this article plus a full course outline, and your path to certification.
Jump to any Section
Why is Lean Six Sigma Yellow Belt Worth it?
If you have begun thinking about process improvement and lean six sigma, it's likely you have come across references to "yellow", "green", and "black" belts. It can be tricky to know where to begin.
While not an essential starting point, Yellow Belt is an excellent introduction to Lean Six Sigma.
Here are 3 reasons to consider a Lean Six Sigma Yellow Belt certification:
1. It's a time and cost-efficient way to begin making improvements and savings
At just 2 days, Yellow Belt is our shortest Lean Six Sigma Course.
With our practical approach, you will cover a lot of ground during that time, coming away with skills and knowledge you can begin using immediately.
Our Yellow Belt training is priced at €395, which includes your certification.
2. You'll gain a recognised certification
If you're looking to get a Lean Six Sigma credential on your CV, achieving a Yellow Belt gets you started quickly.
Green and Black Belts can take a little longer to achieve. You will gain your Yellow Belt certificate following Day 2 of training.
3. It can help you plan your next steps
We find that our Yellow Belt course is popular with those who are curious about Lean Six Sigma, but are unsure of how much detail they want to go into with it.
Completing our 2-day course provides participants with a good foundation in process improvement techniques.
Many of our students want more following Yellow Belt. In these cases, our Green Belt and Black Belt courses are a natural progression.
Some participants find that the Yellow Belt alone is sufficient for their process improvement needs.
Who is Yellow Belt suitable for?
We recommend Lean Six Sigma Yellow Belt for anyone who is interested in improving how things are done in their workplace.
We welcome students from a broad spectrum of backgrounds on our courses.
no experience is needed
it is suitable for participants from all industries
the skills and knowledge you gain can be applied to many different situations
Want Advice?
If you would like some guidance on whether Yellow Belt is the right fit for your needs, we can help.
You can get in touch with our experienced training consultants by phone (Freephone 1800 910 810) or ask us a question online.
How do you get Lean Six Sigma Yellow Belt certified?
Getting yellow belt certified is an easy process with our workshop approach.
1. Attend our 2-Day Lean Six Sigma Yellow Belt Course
This course is available for anyone to attend, with public course dates scheduled throughout the year.
We deliver training online in a "live virtual classroom" format. This gives you a trainer-led, classroom experience from wherever you are currently based.
Learn From Experts
Our Yellow Belt trainers are Black Belt certified, Lean Six Sigma experts with years of both training and process improvement experience to share.
With our live virtual classroom style, you will be able to ask questions and receive feedback from your trainer.
2. Complete your exam on Day 2
To achieve your Yellow Belt certificate, you will complete an open-book exam during Day 2 of the course.
This exam is to confirm that you have absorbed and understood the techniques covered during training.
Next Lean Six Sigma Yellow Belt Dates