Choosing an Agile Approach: Is It Worth It?
So you're interested in Agile. You've done some research and think it might be something your company or career could benefit from.
Learning and implementing a new approach to project management can be a big task. Perhaps you need a little more convincing that agile is worth your time?
In this article, we look at some of the benefits you'll achieve through an agile approach, and what's involved in getting started.
Agile & Scrum Certifications at a Glance
You can get a great overview of our
Agile and Scrum
certifications and their benefits by
instantly downloading
our PDF brochure.
Covered in This Article
8 Benefits of the Agile Methodology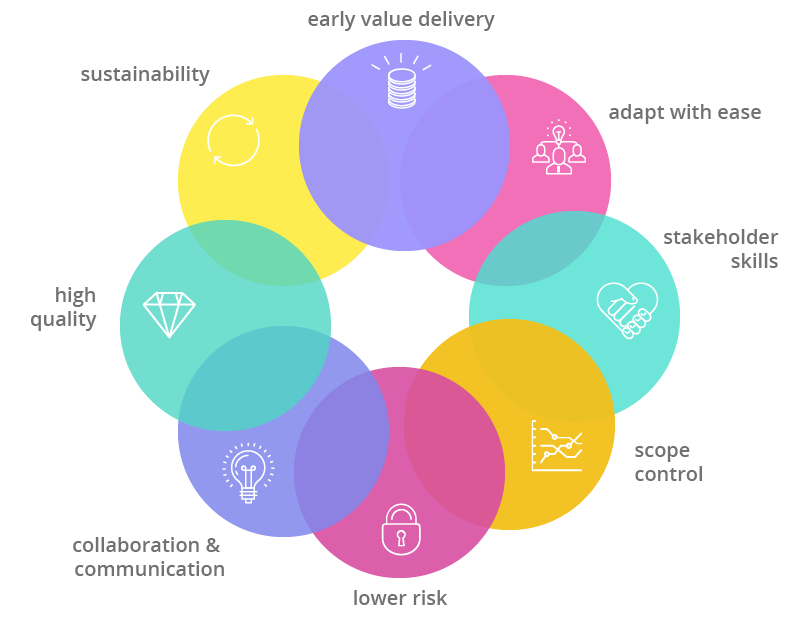 When implemented by those who understand the methodology and have learned to use the tools, agile can yield some game-changing results.
1. Early Value Delivery
The agile methodology focuses on both early and frequent value delivery in a project. Seeing value returns at an early point in a project improves momentum, lowers risk, and informs next steps.
2. Adapt with Ease
Agile is a highly iterative approach to project management. It is designed to change and evolve with the requirements of your project.
3. Stakeholder Skills
Stakeholder "management" is becoming a thing of the past and stakeholder engagement is the way forward. Agile focuses on clear communication and collaboration with stakeholders.
4. Scope Control
Continual updates and reviews to a project's progress and requirements give you the ability to avoid the dreaded scope creep.
5. Lower Risk
By managing the scope of your project efficiently, delivering value from the get-go, and remaining engaged with your key stakeholders, you'll significantly lower the risk of any project.
6. Collaboration & Communication
The agile methodology nurtures a culture of regular communication and collaboration of ideas. Frequent progress updates create an opportunity to share ideas and solutions.
7. High Quality
Quality is one of the key principles outlined in the Agile Manifesto. Agile teams are committed to delivering consistently high standards of work.
8. Sustainability
The agile framework is designed to be sustainable, meaning that once you're up and running, you can maintain the agile level of productivity indefinitely.
Still wondering if you're ready for Agile? Read on…
Agile for Your Career

If you're looking at agile training and certification to progress your career, here are 3 great reasons to go for it:
It's Popular: Agile is growing rapidly in popularity across the globe, and agile certified project managers are in demand.
It's Practical: Agile makes running projects so much easier.
It's Possible: We offer short, focused courses (3-day duration) with exam and international certification costs included.
Take a look at the public agile courses we offer. Each of these courses leads to an internationally recognised certification.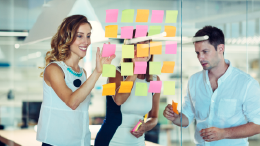 Agile Certification Training
Course (SAMCTM)
This online, self-led training blends agile learning and exam preparation.
It's ideal for anyone seeking an international certification, who lacks experience in agile project management.
Details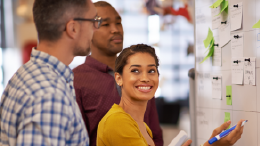 Scrum Master Certified (SMCTM) Course
Our online Scrum Master Certified (SMCTM) Course leads to an internationally recognised scrum master certification.
It is suitable for all experience levels, with exam and certification costs included.
Details
Agile for Your Team

Are you considering implementing an agile culture in your company, or even just within your team?
Here's why Agile could work for you:
Tailored: We will customise an agile training and certification solution that matches the goals and challenges on your radar.
Flexible: We will work around your business schedule, delivering training on dates that minimise disruption to your productivity (already putting agile into practice!).
Consistent: Each member of your team will receive the same standard of training, making it easy to implement a universal terminology and process within the business.
We offer many different agile training options for in-company training. Click below to learn more about the courses we offer, or to get our PDF Guide to Agile.