Are Risk Managers in Demand in 2022?
Published, 26 July 2021. Updated September 2022
The short answer to this question is "yes".
The more detailed answer to why risk managers are in demand will take the length of this article to complete.
Here, we explore risk management's role in the fast-paced world of business and enterprise, and why now is a great time to acquire risk management skills.
In this Article: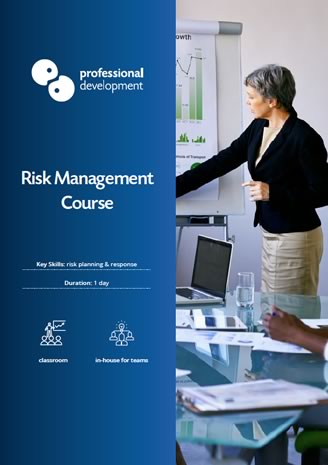 A Fast Introduction to Risk Management
Our 1-day Risk Management Course is a fast-track to getting practical risk management skills.
Get a full course outline and details on how we run this course by downloading our PDF brochure.
Why now is a good time to get into risk management
Our world is becoming more of a global village and globalisation brings more complexity.
Everyone's schedule moves faster than ever and businesses need to change, react, and adapt to survive.
Over the past few years, it has become clear that in order to thrive in our ever-evolving business world, business teams need 3 key skill-sets:
Risk Management
Resilience
Adaptive Project Management
If 2020 and 2021 taught us anything, it's that everything can change rapidly.
With predicted (Brexit) and unpredicted (Covid-19) elements causing upheaval in every organisation, the importance of personnel who can identify potential risks early, plan effective contingencies, and spot opportunities for positive change has skyrocketed.

CPL noted in their 2021 article "Which Sectors are Growing in Ireland?" that due to the significant growth in the fintech space of Ireland's financial sector, risk and compliance professionals are in demand this year.
Resilience and Adaptive Project Management
If you need training in either Resilience Skills or Adaptive Project Management, we've got you covered.
Our Resilience in the Workplace workshop and Agile & Scrum Courses are available throughout the year.
Who needs risk management?
Every business - whether a one-person operation or a multi-national organisation – needs some risk management knowledge in-house.
Compliance and Risk Management Specialists
Becoming a skilled, knowledgeable, and qualified Compliance and Risk Management specialist takes time and focus.
It can be a very lucrative and rewarding career, and demand is currently on an upward trend.
If you're interested in specialising in this area, there are many superb risk management certifications available.
Get a Taster:
Would you like to dip your toe into risk management before committing to a longer, more expensive certification programme?
If yes, our 1-day Risk Management Course will give you practical skills and a good sense of whether you would like to continue.
Risk management as part of another role
All organisations need at least one member of the team who understands the principles and techniques of good risk management.
Business owners, executive leadership teams, project teams, and process improvement personnel are top of the list when it comes to those who need risk management skills.
Small to Medium Business Owners and Leaders
If you're at the helm of a smaller business that doesn't have the luxury of a risk management specialist, it's crucial that you understand the basics of risk management.
Even if you have external consultants for risk management, taking time to familiarise yourself with a foundational knowledge can make it easier to make business decisions.
Project Managers
Risk management naturally falls within the remit of project teams. In fact, almost every one of our project management courses contains at least one module dedicated to risk management.
Project managers don't need to have advanced, specialised certification in risk management. However, they do need to be able to apply risk management principles to their project work.
Process Improvement
Anyone who works in process improvement / Lean Six Sigma will benefit from a knowledge of risk management.
As with project managers, they don't need to specialise in this area, but will perform at a higher level with risk management skills in their repertoire.
How do I become a risk manager?
The first point you need to consider here is whether you want to specialise in risk management (certified) or acquire risk management skills to support you in your current role (uncertified).
Certified or Uncertified?
Whether you choose an advanced, certified risk management programme, or a shorter, practical course depends on your goals and your situation.
If you intend to specialise in risk management, we recommend looking into some of the excellent qualifications available.
For a large section of people, practical risk management skills will be enough to make the right strategic decisions for their projects and business.
We have designed our Risk Management Course as an efficient way for anyone to gain an understanding of and ability to apply risk management strategies to their business or project.
Risk Management Course
Introductory Offer: €225 (live virtual classroom)
Our Risk Management Course is a great choice for anyone who wants to get practical risk management skills fast.
It is focused around two key modules:
Module 1: Risk Planning


Module 2: Risk Responses and Control
You can read a detailed outline of what is covered during each module in our PDF brochure.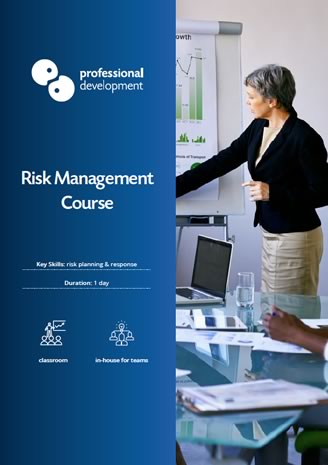 Quick Facts About This Course:
This Risk Management Course is delivered by our experienced project management specialist trainers, who have a wealth of risk management expertise.
It is suitable for participants from all backgrounds.
You will gain non-industry-specific skills, meaning that they can be applied to any situation.
No experience is needed for this course.
This is a 1-day workshop, delivered online in our live virtual classroom format.