How to Choose the Right Agile Certification
There's no question that an Agile mindset is the way of the future when it comes to project management.
However, rather than replacing more traditional approaches, Agile can work hand-in-hand with excellent frameworks such as PRINCE2® or the Project Management Institute's (PMI)® framework outlined in A Guide to the Project Management Body of Knowledge (PMBOK Guide)®.
Agile & Scrum Courses at a Glance
To get quick visibility on our
Agile and Scrum courses
and their benefits, you can
instantly download
our PDF brochure.
Why Agile?
Agile is flexible. When you're working in an Agile way, you can respond to unexpected changes quickly, and with ease.
You can also deliver value consistently throughout every project. You'll maintain better control over your budget, reducing your project risk.
On top of this, Agile promotes a higher level of team engagement and productivity. What's not to love?
5 Tips: Choose the Right Agile Training & Certification Option
How do you choose the right training and certification? Here are our top tips for making sure you're on the right track...
1. Get Clear About Your Priorities
Before you download a single brochure or ask even one question, think about what you want to achieve from training.
There is so much information available, and defining your goals before you begin your Agile quest is a great way to avoid information overload.
Some of the priorities mentioned most often include:
International certification
Practical skills
Progression of current knowledge
Gaining a flexible approach to project management
Earning PDUs
2. Look at Your Project Environment
This could refer to the environment you're currently working in, or the kind of environment you'd like to work in.
Are projects run in small, self-led teams? Are you aiming for a role that leads projects across teams? Are you at leadership level, seeking to implement and support an Agile culture?
These questions will help to prompt the kind of training and certification you'll aim for.
For example, small, self-led teams are ideal candidates for the Scrum project management framework. You could look at a Scrum Master Certification in order to champion a Scrum team, or a complete Scrum Team solution if your entire team are ready for training.
3. Practical Skills are a Must
Nearly every course will include focus on practical skills, but it's always important to ask your training provider about this.
Gaining a practical - as opposed to a purely theoretical - knowledge of Agile or Scrum processes will instil you with confidence when it comes to implementing Agile or Scrum within your workplace.
4. Certification with Credibility
If certification is high on your list of priorities, we recommend choosing a provider that offers a respected, international certification.
Certification cements the integrity of your skills, and identifies you as having a strong standard of capability.
5. Choose a Reputable Training Provider.
This seems like an obvious item for your shopping list, but what is the best way to determine a reputable provider?
To provide a guideline, we have outlined the criteria that we strive to meet for every one of our training programmes:
Every one of our training consultants can offer Agile advice tailored to your specific situation and goals.
We provide detailed information for all of our courses, supporting you in your research and decision-making journey.
We have taken steps to guarantee that our training is of a high, quality-approved standard. We are a Registered Education Provider (R.E.P.) with the Project Management Insitute (PMI)®, and an Approved Training Partner (ATP) with SCRUMstudy.
The certifications covered by our Scrum and Agile courses are awarded by reputable organisations, and are internationally recognised.
All training programmes are delivered by experienced training professionals.
We include comprehensive study materials for all Agile and Scrum training.
Agile or Scrum?
To understand which path is right for your training and certification, it's important to know about Agile, Scrum, and the difference between them.
Very simply put, Scrum is a way of implementing Agile.
If you work in a team-led project environment, or in a business promoting Scrum teams, Scrum will be the right path for your training.
If you are interested in gaining a fuller picture of the Agile methodology, or implementing a responsive project management culture at a leadership or cross-project level, Agile will be your best option to begin with.
You may find these Agile and Scrum articles helpful…
You may not need to choose…
Many of our clients to attend both our Agile Certified Course and Scrum Master Certified training.
If you want an in-depth, fully rounded knowledge of Agile and Scrum, this is the route we recommend. Training will take 5 days in total (3 days for Agile and 2 days for Scrum), and these courses both lead to international certification.
It's perfect for anyone who wants to specialise in flexible, responsive project management.
Our Agile and Scrum Training & Certification Options
Public Courses
We offer 2 public Agile and Scrum training options. These are courses that run throughout the year, and have availability for individuals to attend.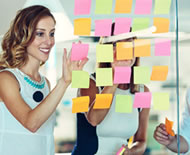 Agile Master Certification
Online or Class - International Certification - This is an ideal option for anyone who wants to dive into Agile project management knowledge and get certified.
Course Details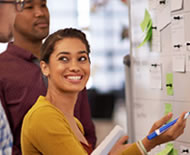 Scrum Master Certification
Online or Class - International Certification - If you want to learn how to lead and support Scrum as a Scrum Master within your team, choose our Scrum Master Course.
Course Details
In-Company Agile & Scrum
If you are seeking a training solution for your team, or your whole organisation, we can offer a programme perfectly tailored for your goals.
We have delivered many company-wide Agile and Scrum training initiatives to introduce or nurture an agile environment.
Click below to read examples of the kind of comprehensive programmes we can deliver, bearing in mind that they can be tailored to your exact needs.