Are You Thinking About Becoming a Certified Six Sigma Black Belt?
Deciding to work towards a Six Sigma Black Belt certification is a commitment, but one that can transform your career.
In this article, we'll take a look at what's involved in becoming a qualified and confident Black Belt Six Sigma practitioner, and whether it's worth the time and money you'll need to get there.
Covered in this Article
What is a 6 Sigma Black Belt?
Put very simply, Black Belts are process improvement masters. They understand how to run a process improvement project, and can mentor less experienced practitioners, such as Green and Yellow Belts.
What is a Six Sigma Black Belt Salary?
Let's kick off with the all-important salary question. People often want to know about the salary potential of practicing black belts.
Payscale.com reports an average salary of €62K for Certified Six Sigma Black Belts in Ireland. *
This is simply an average estimate, and can vary from industry to industry, increasing with your experience.
It's also important to factor in that aside from annual salary, qualified black belts are continuously in demand in all sectors.
What are the Benefits of Becoming a Black Belt?
Greater earning potential is just one of the benefits you'll gain by achieving a six sigma black belt certification. Here are 3 more key outcomes:
1. Achieve Better Savings & Improvements
If you've been working in a process improvement environment, or have been involved with lean six sigma projects, you'll know that there are different levels of savings and improvements.
Starting with tackling the "low hanging fruit", or easy-to-achieve savings and improvements, those involved can begin to see results from their lean six sigma projects early on.
Black Belts are the key to unlocking the "sweet fruit" – those improvements that can really transform a department or business. Six sigma black belt practitioners have the understanding and skill to achieve these transformational improvements.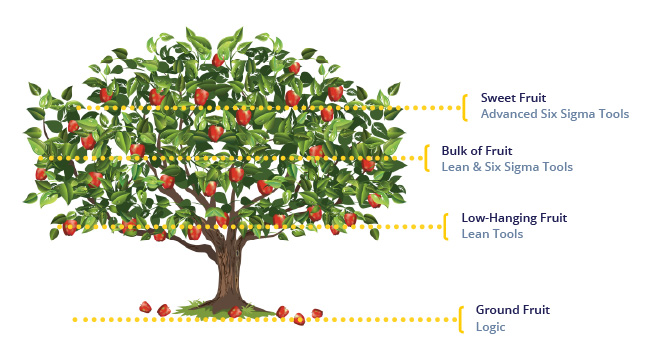 2. Enjoy a More Rewarding Work Life
This is connected to the first benefit, but there's no denying that achieving the "sweet fruit" of harder-to-reach savings and improvements is satisfying for any lean six sigma practitioner.
Experienced six sigma practitioners relish fresh challenges, and thrive on tackling new and more complex projects.
3. Expanding Career Potential
Along with an increased salary, you'll also gain a new level of credibility as a qualified Six Sigma Black Belt.
Being known for this high level of process improvement proficiency gives you the freedom to take your career to new places. A whole new set of opportunities present themselves, ready for you to jump in and explore.
How Long Does it take to Become a Six Sigma Black Belt?
Our innovative programme is unique, in that combines practical application of the ASQ Black Belt Body of Knowledge (BB BoK) to a black belt project plus exam preparation for your international certification.
While the timeline varies from person to person, with our focused programme, it is certainly possible to gain your Six Sigma Black Belt Certification within 6 - 7 months.
We've broken down the Professional Development timeline for achieving your Six Sigma Black Belt certification into 3 phases:
Phase 1: Training
Duration: 5 months (14 days: 3 & 2-day instalments)
We run our live virtual training over 5 months, with 4 x 3-day instalments, and 1 x 2-day instalment.
This style of training balances a focused approach when in training, and time between modules for participants to revise and to work on their project.
Phase 2: Project Work & Study
Duration: up to 8 Weeks
Participants have up to 8 weeks from the last date of training to complete and submit their project work for grading.
Participants also use this time to study for the ASQ Certified Black Belt exam.
It is important to note that study time varies from person to person. Some complete the exam swiftly following the end of training, while others prefer to extend the study period.
Phase 3: Exam
Duration: 4 Hours
Once you are ready and have booked your exam, the ASQ Certified Six Sigma Black Belt exam will take 4 hours.
It is a proctored, online exam with 150 questions.
Who Attends Black Belt Training?
Six Sigma Black Belt Training is designed for those with experience in both working on and leading process improvement initiatives.
It's a natural next step for those who have already gained a Lean Six Sigma Green Belt Certification.
If you're unsure about whether you're ready for Six Sigma Black Belt training and certification, why not talk to us? We can point you in the right direction for your career. Call us on Freephone 1800 910 810, or click below to request a call back.
What Does it Take to Become a Six Sigma Black Belt?
If you're ready to get started, you can take the first step to becoming a Black Belt today by reserving your place on our next dates.
If you've still got a few questions, we'll be happy to help. You can instantly view and download our PDF brochure by clicking below, or call us on Freephone 1800 910 810 to discuss your training options.
---
*based on stats from www.payscale.com on 25.02.19