What is a Six Sigma Black Belt?
Experienced managers, supervisors and process improvement project leaders often reach a point where they want to progress their skills and take their process improvement capabilities to the next level. This is where Six Sigma Black Belt certification comes in...
This article answers the question "What is a Six Sigma Black Belt?".
It will give you an overview of the characteristics of successful Black Belt practitioners and the benefits you'll gain by becoming black belt certified. It will also outline the black belt training and certification process.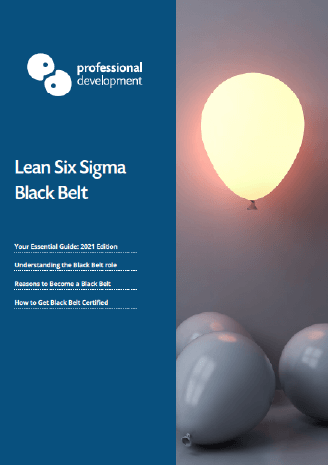 Get a Black Belt Guide Instantly
You can download our 16-page, PDF Guide to Six Sigma Black Belt instantly using the button below.
This includes answers to all of the questions in this article, plus bonus insights to the role of Black Belts.
Get the Guide
Jump to any Section:
What is a Six Sigma Black Belt?

Lean Six Sigma Black Belts have thoroughly mastered sustainable process improvement at every level. They are the leaders and mentors in any process improvement culture or project.
Black Belts are capable of looking at the bigger picture while simultaneously remaining aware of the level of detail involved in any process or project.
10 Key Characteristics of Black Belts
Here are 10 characteristics and abilities all high-performance black belts will possess:
Understanding of organisations at cross-functional and process levels
Exceptional communication skills
Ability to lead change
Advanced project management capabilities
Pro-active attitude to achieving goals and problem solving
Customer advocacy skills
Technical aptitude - computer competency, analytical skills
Motivation to produce sustainable results
Simultaneously leads and participates in process improvement projects
Ability to remain detail-orientated while focusing on the bigger picture
What does a Six Sigma Black Belt do?
A Six Sigma Black Belt practitioner will drive process improvement at a strategic level across an initiative or organisation.
They will often also actively participate in ongoing projects, and mentor Lean Six Sigma Green Belts and Yellow Belts.
Why Get Black Belt Certified?
Attending training and achieving a recognised and respected certification at Black Belt level will develop your skill and knowledge, cement your experience, and add weight and credibility to your career in process improvement.
Top 5 Benefits of Six Sigma Black Belt Certification
1. Achievement
Lean Six Sigma Black Belt personnel are identified as "go-to" achievers in any organisation.
2. New Challenges
Having achieved proficiency in process improvement, ideally but not essentially at Green Belt level, candidates find new, rewarding challenges at Black Belt level.
3. Make Bigger Saving & Improvements
Progressing to Black Belt level enables you to acquire the "sweet fruit" of high-level improvements and savings.
4. Global Opportunities
Our Black Belt programme leads to a respected, international certification, giving you flexibility to travel or to work with multi-national organisations in any industry.
5. Enhanced Career Prospects
Black Belt certification enhances your career prospects, as practitioners at this level are in demand in every sector.
Who Attends Black Belt training?

There are some eligibility requirements for Black Belt training and certification.
Black Belt training is for those who have plenty of experience both leading and implementing process improvements in an organisation.
It's a natural next step for people who have achieved a Lean Six Sigma Green Belt certification and built experience upon this qualification.
Need advice about your eligibility status?
If you have some experience in Lean Six Sigma (either formally, or informally) and are unsure if you are ready for Black Belt certification, why not get in contact with us?
You can reach our training consultants by calling us on Freephone 1800 910 810 or 01 861 0700 (9.00 am to 5.30 pm, Monday to Thursday, or 9.00 am to 5.00 pm Friday).
How to Get Black Belt Certified
We offer an intensive, practical, and focused way to achieve your Black Belt Certification in a matter of months.
Our ASQ Six Sigma Black Belt programme is delivered over 5 months in 3 and 2-day instalments.
Upon successfully completing this course, its accompanying project work, and the ASQ Certified Six Sigma Black Belt (CSSBB) Exam, participants will achieve 2 certifications:
Professional Development Lean Six Sigma Black Belt

(project based)

ASQ Certified Six Sigma Black Belt

(exam based)
How much does Six Sigma Black Belt Certification cost?
Our Lean Six Sigma Black Belt Course is an inclusive exam preparation solution including everything you need to set yourself up for success with both black belt certifications.
The objective of the course is to provide you with practical, best-practice approaches to Black Belt projects, while preparing you, with sample questions and answers, to achieve a respected, international Lean Six Sigma Black Belt Certification.
The programme cost of €4,995 includes:
14 days classroom training (3 and 2-day modules over 5 months)
Study support materials
Sigma XL software
ASQ Online Exam Simulator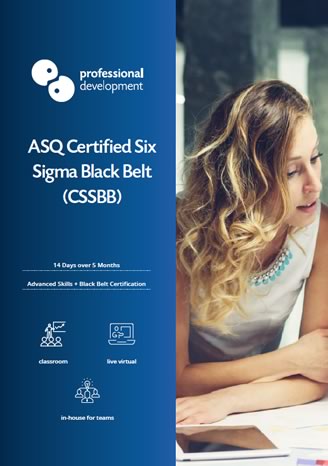 How long does it take to get a Six Sigma Black Belt?
We run this 14-day programme in short, focused instalments over 5 months.
Following training, you will work on your project and study for your exam. You can read details of the certification process below.
What is the certification process?
Achieving your Six Sigma Black Belt certificaton with us is a practical, 4-step process.
Step 1: Training




Attend our ASQ Six Sigma Black Belt programme.

This is a 14-day programme, delivered via our live online classroom platform over 5 months. We are now enrolling for our Autumn 2023 dates.

Step 2: Project Work




Undertake project work against requirements outlined in our detailed assessment brief. This will run in tandem with, and after training.

This practical application of your learning to a live or hypothetical project helps to support and cement your confidence with black belt level process improvement.

Step 3: Submit Project Work & Exam Preparation




Complete your project work in the 8 weeks following completion of course, and submit your project work to be graded.

Step 4: Exam




You will also need to allocate time to study, apply for, and sit your ASQ Certified Six Sigma Black Belt exam. We include a 365-day access to an ASQ online question bank to support your exam preparation success.

Many participants complete this step at the same time as Step 3.