Lean Six Sigma Belts and Roles
If you're interested in Lean Six Sigma, you will have come across many mentions of Lean Six Sigma belts on your research travels.
We have created this article as a short, introductory guide to understanding the different belts and the importance of all Lean Six Sigma roles.
New to Lean Six Sigma?
If this is the first time you're reading about the
process improvement methodologies
of Lean and Six Sigma, we recommend taking a few minutes to read our article,
"What is Lean Six Sigma?"
.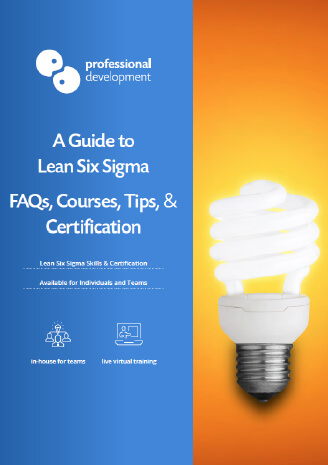 Get an Instant Overview

You can get access to information about our Lean Six Sigma courses by instantly downloading our PDF Guide.


Jump to Any Section

What are Lean Six Sigma Belts?
The Lean Six Sigma Belts indicate different stages of knowledge, skill and experience in a process improvement practitioner's development.
These clearly defined roles help structure an organisation's continuous improvement strategy, as every belt level plays a key part in the success of Lean Six Sigma initiatives.
Is there a difference between "Lean Six Sigma Belts" and "Six Sigma Belts"?
No, they are essentially the same thing.
Lean and Six Sigma are separate methodologies in their own right, but are so frequently used together that the terms "Lean Six Sigma", "Lean" and "Six Sigma" are often used interchangeably.
You will sometimes find training and certification for a belt that focuses more on the "Six Sigma" side of things, but for the purposes of general knowledge and certification, there is no real difference.
Understanding Lean Six Sigma Belts and Roles
In the Lean Six Sigma hierarchy, there are 5 belt levels and one other crucial role that we will outline below.
White Belt: General Understanding

A White Belt has an understanding of how Lean Six Sigma works. They can use correct Lean Six Sigma terminology to communicate potential issues or relevant points to those working on process improvement projects.
Who are White Belts?
When an organisation is introducing a Lean Six Sigma culture, it's usual for
everyone within the organisation
to receive White Belt training. This helps everyone to get
on board with the changes
that will happen as the process improvement team take action.
Yellow Belt: Active Contributors

Yellow Belts have a strong foundation in Lean Six Sigma.

They understand how it works and can contribute to process improvement projects. They report to and support Green Belts.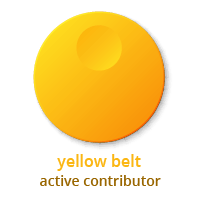 Who are Yellow Belts?
Yellow Belts are most often people who will
work on a Lean Six Sigma project
but will not lead it.
Learn more about becoming a Yellow Belt.
Green Belt: Project Managers

Green Belts can manage process improvement projects.

They have a confident understanding of Lean Six Sigma and the capability to implement it successfully.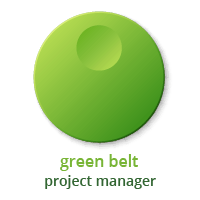 Who are Green Belts?
Green Belt is the
most popular
of all Lean Six Sigma certifications, as it's closely aligned with a
"project manager"
role. Businesses usually need
more than one
Lean Six Sigma Green Belt to drive process improvement initiatives forward.
Find out how you can become a Green Belt.
Black Belt: Mentor and Strategist

Those trained and certified at Black Belt level drive cross-functional process improvement projects.

They take savings and improvements to the next level and function as a mentor to White, Yellow, and Green Belts.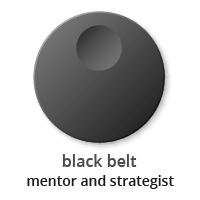 Who are Black Belts?
Black Belts are those who have
experience
working with Lean Six Sigma and process improvement. They are often – though not always – people who progress from a
Green Belt Level
.
Learn how you can progress to Black Belt level.
Master Black Belt: Big Picture, Organisational Strategy

Master Black Belts are very advanced Lean Six Sigma practitioners.

They work cross-level with Black Belts and leadership teams to strategise and lead process improvement across the organisation.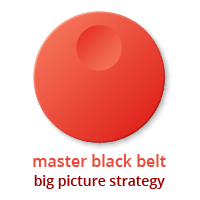 Who are Master Black Belts?
Not all Black Belts progress to Master Black Belt level, but those who do have usually
worked at Black Belt level
for some time. They are involved with
high-level strategy
for streamlining, savings, and sustainable improvements. They oversee the application of Lean Six Sigma
across an entire organisation
and devise the strategy for
future initiatives
.
Champion: Supports and Nurtures

Successful Lean Six Sigma depends on leadership commitment.

A champion is someone who is part of the organisation's leadership team. They are fully invested in nurturing and supporting a Lean Six Sigma culture.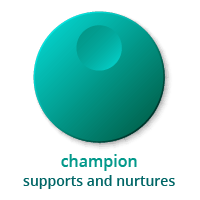 Who are Lean Six Sigma Champions?
Champions are most often the
leadership team
within a company. Executives can function as both Champions and
Six Sigma practitioners
, but not all Champions need to do this. It is
crucial
for all leadership within an organisation to be Champions for Lean Six Sigma to succeed fully.
Do I need to begin at White Belt level?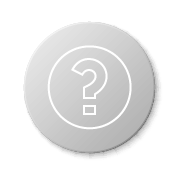 No, it is
not necessary to complete every belt level
along the hierarchy.
We find that most individuals begin at
Yellow or Green Belt level
.
Most teams adopting a Lean Six Sigma approach take a tailored approach to their training, discussing their specific needs with us so that we can customise a programme to help them achieve their goals.

Occasionally someone will be ready to begin at Black Belt level. This is rare, but it does happen. If a person has plenty of experience leading process improvement initiatives, they may be ready to start with Black Belt training and certification, bypassing Green Belt level.
How can I decide which Belt is Right for me?
To decide on the best training and certification path for your career, your business, or for your team, you need to consider your background and objectives. Ask yourself the following questions:
Do I / my team have any experience with process improvement?
Do I / my team need to be able to apply Lean Six Sigma or just understand the concepts?
How will I / my team use Lean Six Sigma?
Once you've considered these questions, we recommend taking a look at our courses online, and getting in touch to discuss your next steps.
Are You Ready to Get Started?
If you're ready to get started on your Lean Six Sigma training and certification, take a quick look at these options.
New to Lean Six Sigma?
If you want a short, intensive introduction to Lean with some knowledge on Six Sigma, our Lean Six Sigma Yellow Belt Course could be the best fit.
Over 2 days, you'll learn about the important DMAIC problem solving framework used for Lean projects. You'll leave with the ability to contribute to process improvement projects.

Get Course Brochure • View Course
If you're new, but want to take a more in-depth approach, we recommend our Lean Six Sigma Green Belt training. It's a 5-day course that leads to both a Professional Development Green Belt Certification and a QQI qualification.

Get Course Brochure • View Course
Experienced with Lean Six Sigma?
If you have plenty of experience, or hold a Green Belt qualification, it might be time to move to fresh challenges at Black Belt level. Our 14-day Lean Six Sigma Black Belt programme is delivered in 5 short, intensive instalments and leads to an ASQ Certified Six Sigma Black Belt qualification.

Get Course Brochure • View Course
Teams
We have so many options available for teams or entire organisations who wish to train in Lean Six Sigma. We can offer training for every role and belt level, customising the course to suit your precise requirements.

Get a Quote • View Courses
Trusted For Lean Six Sigma Training By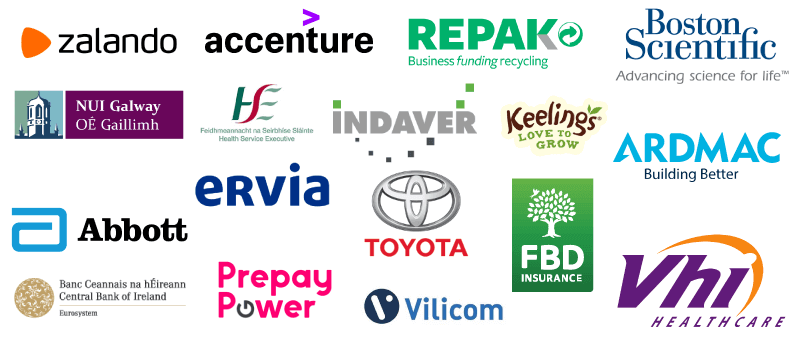 What clients say about our Lean Six Sigma Online Courses
Here's what some of our recent participants on live virtual Lean Six Sigma courses had to say about their experience:
I received good support from Professional Development, from booking this course, for making sure I was prepared for this course before it began and in the aftermath of taking this course. I would highly recommend anyone else do a course with Professional Development, as both their training and administration team offered me high quality support throughout my training.

Programme was very well organised – specifically, with the extensive use of the Dropbox, I could easily access any slides, supporting documents etc. both during and after the training. Content was provided in a clear and concise manner – there was ample support and clarification being provided by the trainer any time anything was unclear.

I would rate the service provided to me by my training consultant plus the booking process 10/10. I was given ample information to access the course, supporting documentation and slides to navigate the course content and any queries I had in relation to the course were responded to quickly and efficiently.

One of the strengths of this course that was greatly appreciated was the constant discussion around the assignments. Once new information was covered in the course, the assignments would be reviewed and any questions asked around what was required. Another strength of this course was the well organised Dropbox, which made following along with the slides and reading documents outside course hours incredibly accessible.

The live virtual classroom worked well beyond my expectations. A few exercises, especially team exercises, could have been improved if they were held in-person, however taking the current situation into mind, the virtual classroom worked smoothly, team exercises were easy to co-ordinate and apart from minor technology issues, the overall experience was good.

I had a very good experience and impression of the course. The trainer was very clear in explaining various subjects and the discussions & exercises were very productive.

This experience helps to give me a structure or a defined approach to analyse and or solve problems arising in my field of work.

Strengths of the course were theory & practice given; the virtual delivery was very good and interactive, exceeding my expectations.

The course was very good and the trainer excellent. Some discussions & exercises were very useful and I liked spending time on my project and hearing about other projects in the break outs.

Virtual delivery was very good and I don't think face to face would have been any better. It's a heavy topic and I don't think face to face would have improved that.

My experience with Professional Development was very positive, the course was well organised, training consultant 5/5 and the trainer is experienced, with a really good voice, easy to listen to.

The Six-Sigma Lean green belt course was fantastic. The coach was incredible, very patient, open to questions and extremely helpful. Also, after the course he was always available by email for questions and comments.

The course was well organised and structure, lots of good material and very professionally delivered.

I will definitely recommend it. I'm really, really happy and now considering the next level, black belt.