What is Lean Six Sigma?
Lean and Six Sigma are two process improvement methodologies which, when used together become extremely powerful business transformation tools.
Businesses all over Ireland are adopting Lean Six Sigma to maximise their organisation's potential, increase team morale and effectiveness, and minimise waste and downtime.
This article answers the popular question, "What is Lean Six Sigma?", outlines how you can get started with process improvement, and points you in the direction of other helpful articles.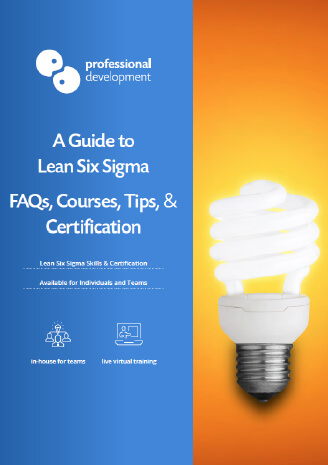 Get the Full Guide Now
You can download and keep our PDF Guide to Lean Six Sigma using the button below.
This 16-page guide includes the information in this article, plus tips for choosing the right course and getting started.
Jump to any part of this article
What is the difference between Lean and Six Sigma?
Lean and Six Sigma are separate methodologies. They originated in different places at different times.
They can be used independently. However, they work so well together and are so often combined that they are more commonly known as "lean six sigma" rather than as separate entities.
A very general description would note that Lean targets waste, while Six Sigma works on reducing variation.
To understand why they are so dynamic together and fully answer the question "What is Lean Six Sigma?", let's look at them in more detail individually, and then combined.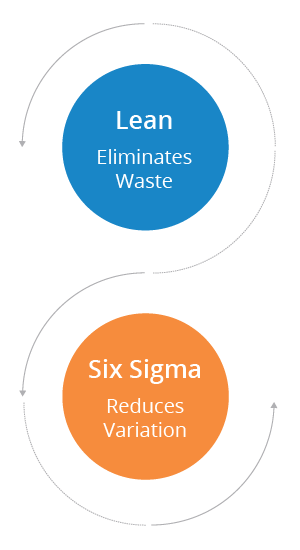 What is Lean?
Origins of Lean
The concept of "lean manufacturing" and eliminating waste from processes has been around since before the 20th century.
Lean as we know it today was established in the early 1990s, growing from the TPS (Toyota Production System).
Lean started out in the manufacturing sector. It was an approach for streamlining production by eliminating any unnecessary or wasteful elements of the production process.
Today, Lean has travelled expanded far beyond its origins. It is now widely implemented in all sectors of industry and business.
How Does Lean Work?
Lean targets waste, eliminating anything that is "non-value add" from your processes.
Using the 8 wastes as a guiding point, a Lean approach will consider all elements and stages within a process.
This evaluation carefully determines which parts of the process are value-add and essential to quality and productivity, and which elements are considered 'waste'.
What are the 8 Wastes?
Defects
Over-production
Waiting
Non-utilised talent
Transportation
Inventory
Motion
Extra-processing
What is Six Sigma?
Origins of Six Sigma
Six sigma was first introduced within Motorola in 1986.
Its name refers to a statistical concept on the number of defects per million repetitions of a process, or outputs of a product.
Six Sigma is a goal to work towards, the ideal low level of variations and defects per million opportunities (DPMO).
How Does Six Sigma Work?
Many refer to Six Sigma as "problem solving". Six Sigma is used to identify flaws, variations, or defects in a process, and to correct them.
Using the DMAIC Cycle (Define, Measure, Analyse, Implement, Control), a process can be mapped and analysed to identify and resolve issues or flaws.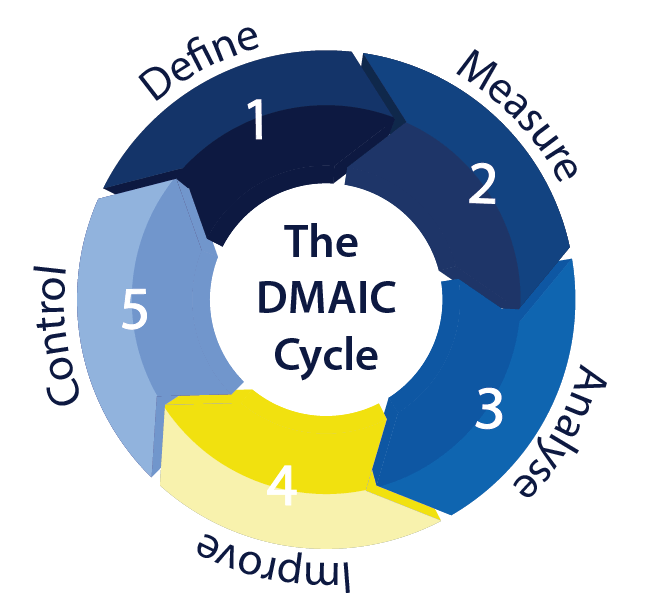 How do Lean and Six Sigma work together?
You can see how both Lean and Six Sigma can be very effective, even when used alone.
As mentioned above, the two methodologies work so well together that they are almost better known as the combination "Lean Six Sigma" than as standalone methods.
Lean helps you to streamline processes, while Six Sigma works to improve quality by reducing errors or variations. Both methods focus on developing optimally performing processes.
Let's look at some of the benefits they can achieve when implemented together...