If you listen to music, there's a very good chance that you use, or have used Spotify at some point in the last 10 years.
Spotify: A Very Brief History
Spotify is a music, podcast, and video streaming platform founded by Daniel Ek and Martin Lorentzon in Sweden. It was launched in October 2008, and on April 3rd of 2018, Spotify went public.
After just one day of trading, the streaming platform was valued at $26.5 billion on the New York Stock Exchange.
So how did this sparky company grow and expand to play in the major leagues with giants like Apple and Amazon? The answer is Agile...
Agile & Scrum Courses at a Glance
To get quick visibility on our
Agile and Scrum courses
and their benefits, you can
instantly download
our PDF brochure.
A Natural Transition from Scrum to Agile
Spotify started as a Scrum company, but over time, their rapid growth inspired them to adopt a more "agile" approach.
Scrum is a subset of Agile, or a way of implementing Agile. As you'll read below, many of Spotify's teams still use Scrum approaches and much of how the organisation handles larger projects is Scrum orientated.
However, expanding to become an Agile culture gave Spotify the freedom to become the market leader it is today.
Learn About Spotify's Agile Culture
Spotify's Learning and Development channel released the video below 4 years ago, but it remains hugely relevant today.
Although Spotify is primarily a software development organisation, we challenge you not to be inspired and motivated by what you learn during this video, regardless of your industry.
The video is 13 minutes long, so we recommend grabbing a cup of coffee before starting. If you're short on time now, here are some key take-aways from the video…
In a Nutshell: Video Key Points
1. Break Rules Like a Champ
Spotify originated as a Scrum-led organisation, a perfect environment for instilling a team culture. Rapid growth led Spotify to value Agile over Scrum. They required a "bigger picture" approach.
As Henrik Kniberg says in this video, "Rules are a good start, but then break them when needed".
Succeed at growing and changing. Allow your "best-practices" to change, and don't cling to a process or tool-kit. Perhaps something was the perfect fit for your business last year, but that doesn't mean it's your best strategy for this year.
2. Culture is Key
Throughout the video, you'll hear Henrik refer to Spotify's culture repeatedly. They pour a lot of resource and focus into developing and maintaining their culture.
It's a culture based on autonomy (more on this below), innovation, and respect. Through training and support, Spotify's leadership team instil a culture of mutual respect and trust throughout. Inflated egos, politics and a stranglehold control have no place in this forward-thinking organisation.
3. Autonomy for the Win
Autonomy very quickly became the driving force of Spotify. It's at the core of so much of the company's operational momentum.
The structure of the organisation is focused around 'squads', teams of usually less than 8 members. Each squad has a 'squad mission', and ownership of a single or multiple products.
Autonomous teams are at the heart of both Scrum and Agile principles. Autonomy is motivating, and motivated people deliver better work, faster. It also serves to minimise waiting around and unnecessary administration – another win for productivity.
The video also focuses on the importance of balancing the blend between autonomy and alignment with the organisation's overall goals and culture. For optimum productivity and quality, aim for high autonomy and high alignment.
4. Collaboration is Very Cool
At Spotify, office space is optimised for collaboration. Each squad's area includes adjustable desks, and spaces for both a daily stand up, and smaller meetings.
Knowledge sharing is actively encouraged. There are communities within Spotify called "guilds" that are geared towards promoting this element of the culture. Anyone working at Spotify can join a guild that focuses on an area they are interested in, to learn more about it, contribute ideas... and of course, share knowledge.
When teams share knowledge, problems get solved faster, ideas develop rapidly, and obstacles are removed from every project.
5. Continuous Improvement is a Game Changer
Lean principles meet Agile flexibility in Spotify's progress over perfection mindset.
Adopting a mindset of, 'we're not there yet, but we're moving in the right direction' enables teams to try new approaches, learn from failures, and identify what works best in every situation.
Spotify encourage trial and error, but also champion a "waste-repellent culture". If something's not working, learn from it – then ditch it and move on. There is no room on this innovation train for projects and processes that just don't work!
Want to Learn More About Agile?
Agile thinking and project management processes can be transformational in practically any environment. We see a broad spectrum of attendees on each of our Agile and Scrum courses, each gaining core skills and knowledge in the areas of Agile and Scrum.
If you'd like to speak with one of our training consultants about the best route for your Agile or Scrum training, you can reach us by calling Freephone 1800 910 810, or ask us a quick question online.
Further Online Reading...
Here are 2 strategies you can implement to become confident with Agile thinking:
1. Get Trained and Certified in Agile and Scrum Approaches
We offer agile and scrum training for all levels of experience. Click on a course below to learn more about our Agile and Scrum Courses.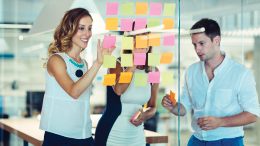 Agile Certification Training
Online, Self-Led - International Certification - Perfect for Beginners
Details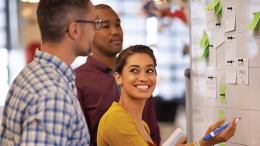 Scrum Master Certified
Online, Self-Led - International Certification - Get to Grips with Scrum
Details
2. Read More about Agile and Scrum
Here are some of our most popular Agile and Scrum articles you may find helpful.