Your 2-Minute Guide to: QQI Management Coaching Course
If you're looking for innovative new ways to support and motivate your team, coaching could be your next step.
This 2-minute guide to our QQI Management Coaching Course gives you a focused introduction to our popular QQI-certified coaching course.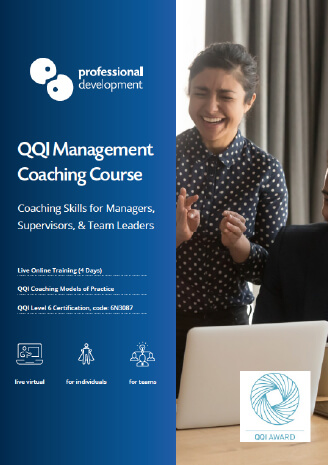 Download the Details Now
You can download our PDF brochure instantly to get a detailed overview of this course. The brochure includes a full course outline, training objectives, and your path to certification.
You can also get in touch with our team directly by calling Freephone 1800 910 810 or using the "Ask a Question" button below.
Jump to Any Section:
Discover Management Coaching in 60 seconds
This short video offers an overview of how coaching can support and enhance your management role.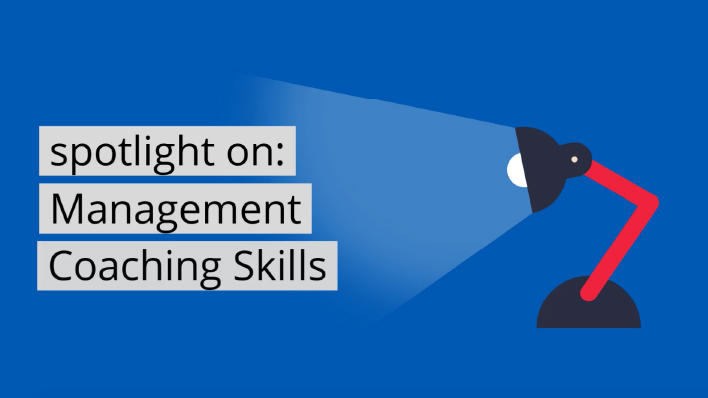 Fast Facts About our QQI Management Coaching Course
QQI Management Coaching Course

Gain: Practical Coaching Skills + QQI Certification
Duration: 4 Days (9.30am - 5.00pm each day)
Price: €575
Includes: All training and QQI certification costs are included.
Designed For: Managers, Leaders, HR Personnel
Certificate: QQI Level 6 (code: 6N3087)
Award: Coaching Models of Practice
Available for: Individuals and Groups
Want Skills Without Certification?
Our 3-day alternative, Coaching Skills for Managers is a great course for those who are interested in gaining key management coaching skills, but who don't wish to get certified.
Coaching Skills for Managers runs alongside Days 1 - 3 of our QQI Management Coaching Course.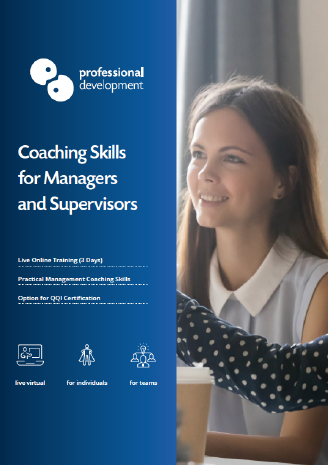 4 Key Benefits of this Course
There are many benefits you will gain from completing our QQI Management Coaching Course. Here are our top 4:
A Confident Understanding of Coaching
This is a very practical course, designed to provide you with both an understanding of coaching and the ability to coach others.
Through a very hands-on style of learning you will develop confidence in your own coaching style and your ability to successfully conduct a 1-to-1 coaching session.
Stronger Communication Skills
Excellent communication is at the heart of coaching others – and the key to being a successful manager.
This 4-day course incorporates a strong focus on important communication skills such as listening, questioning, and building rapport.
Advice and Guidance from Coaching Experts
Our coaching trainers bring a wealth of both coaching and management experience to their role.
They will share the benefits of their expertise throughout the course, offering guidance and insights to strengthen your management coaching abilities.
QQI Certification
Achieving a respected QQI Level 6 certification underlines the credibility of your skills.
The practical nature of the assessment work is a further tool for cementing your knowledge and skills.
Who Attends?
We recommend this QQI Management Coaching Course for anyone who supervises, leads, or manages others.
Participants include:
Business Owners
Executive Leadership Teams
Managers & Supervisors
Team Leaders
HR Personnel
Project Managers
Suitable for All: No previous experience with either coaching or management is required. This course is suitable for anyone who wishes to learn how to coach others from a management role.
Versatile Skills: The skills and knowledge you will gain during this course are applicable to all industries.
Course Dates & How to Join
This course is available for both public and in-company bookings.
Public Courses
Anyone can reserve a place on our public Management Coaching Courses that run throughout the year. This is a great choice for any individuals who want to gain management coaching skills.
Click below to get more detailed information about our QQI Management Coaching Courses.
In-Company Courses
In-company training is recommended for organisations of any size with several candidates for management coaching training.
You Choose Dates: With in-company format, we deliver this course exclusively to participants from your company on dates you choose.
Flexible Style: We can deliver training either in person at your location or via our online live classroom format. Live virtual classroom is an popular option for remote-working participants.
Customised for Your Business: We will customise the course content to focus on the kind of management challenges and goals unique to your business.
Ask us Anything about Management Coaching Training
If you are interested in learning more about management coaching, but aren't sure where to begin, we would love to help.
Get in touch with our experienced training consultants by phone (Freephone 1800 910 810 or Dublin 01 861 0700) or by using either of the buttons below.