Why Become A Scrum Master?
Originally published, January 2019. Revised and updated November 2021
Are you wondering if a Scrum Master role would be a good fit for you?
Scrum is now one of the most widely-used approaches for project management. It is popular in almost every industry and with organisations of all sizes.
Becoming a Scrum Master is a wise choice for anyone who is:
interested in learning how to manage projects with changing requirements
wants to expand or begin building their project management credibility
would like to boost their career prospects
In this article, we take a look at the 5 most compelling reasons to become a scrum master. We also give you our 3-step guide on how to achieve your Scrum Master Certification.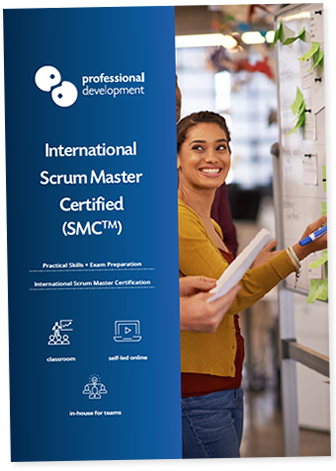 Get the Full Guide
You can download our complete PDF brochure using the button below.
This brochure is an excellent resource for anyone who wants to learn more about getting Scrum Master Certified.
Get a Brochure
In This Article:
5 Reasons to Become a Scrum Master
There are many reasons you might choose to train and certify as a Scrum Master. Here, we have narrowed it down to the top 5 factors that make it so worthwhile:
1. Scrum is popular…. and it's not going anywhere
Scrum and its parent methodology, Agile have surpassed the point of being "buzzwords".
They are the fastest growing project management approaches on a global scale. This popularity has continued to skyrocket for the past decade and is only gathering speed and momentum.
Achieving a Scrum certification this year is a smart move for anyone seeking to keep their project management skills current and relevant.
2. Certification = Credibility = Opportunity
As with all project management methodologies, achieving an internationally recognised scrum certification is important.
A scrum master certification informs potential clients or employers that you understand the methods in question and are capable of correct implementation.
It also equips you with a widely recognised skill set and understanding of Scrum that will help you work with different types and sizes of projects, in varied working environments.
3. Scrum enhances traditional project management
If you're experienced with traditional (also known as "predictive" or "conventional") project management methods, Scrum can be a great way to enhance what you already know and do.
You can combine Scrum with elements of traditional project management, or take ideas, processes, or aspects of Scrum that you feel will make your current methods more effective.
4. Scrum supports better value delivery
One of the key features of a scrum approach to managing projects is a higher, more consistent value delivery throughout the project's lifecycle.
This means that you will be able to provide results from an early stage through to the end of the project's lifecycle.
5. It doesn't take long to get confident and certified
With two flexible options – a focused live virtual classroom or self-led e-learning course – you can choose the most efficient way to get Scrum Master Certified.
Whether you go for trainer-led (live virtual classroom) or self-led (e-learning), you're looking at a short lead time between beginning training and achieving your Scrum Master certification.
You can learn more about getting certified below…
How to become a Scrum Master in 3 Steps
Becoming a Scrum Master is easier than you think.
We have two readily accessible options for getting Scrum Master certified:
Live Virtual Classroom Training - €545 – Includes Exam & Certification
This is our 2-day, trainer-led course. Connect to a real-time training session online delivered by our experienced Scrum tutors.
Following training, you will gain access to our online learning platform.
We have scheduled dates available in this format throughout the year.
Self-Led Online Course - €399 – Includes Exam & Certification
With our self-led option, you can begin whenever you are ready.
Once you purchase our self-led Scrum Master Certified course, you will gain 180-day access to our online learning platform.
Work through the course materials at your own pace and schedule your online exam when ready.
Whether you choose the live virtual or self-led course format, there are 3 steps to becoming a certified Scrum Master:
Step 1: Complete Training

Either through a combination of attending the live trainer-led course and further study, or by completing the self-paced course, you will need to cover the full course syllabus.

Step 2: Study Period

When you have completed the course work, there is usually a need for study and exam preparation.

The time needed for study varies between each person, but you will get a good indication of how long you need as you work through the course materials.

Step 3: Exam & Certification

Once you're ready, schedule and sit your Scrum Master Certified exam. Upon passing, you will receive your Scrum Master Certification.
More Scrum Resources and Reading
The links below lead to helpful resources that can support you in learning more about Scrum and adaptive approaches to project management.
If you have any questions or would like to speak with our scrum master certified consultants, we would love to hear from you.
Use the buttons below to get in touch online or request a call back. You can also contact us directly by phone at Freephone 1800 910 810.