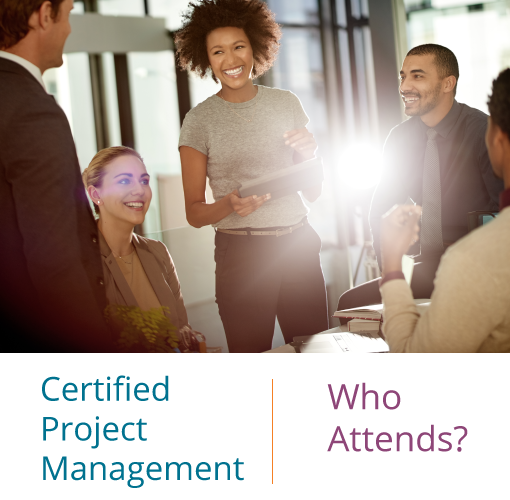 Who Attends?
This course is designed for anyone who wants to gain versatile, relevant project management skills they can apply in any environment.
We recommend our Certified Project Management Course for:
Anyone who wants to make a career move into a project management role


Experienced project managers who want to refresh their skills.
The interactive style of this course creates a rich learning environment, with participants from different backgrounds contributing to a diverse group dynamic.
Yes, this is our most practical project management course.
It is designed to develop your capabilities and your confidence in running a project in a full cycle from initiation to closure.
We combine theoretical and interactive learning for this course to give you a well-rounded experience.
There are many project management certifications available. The timeline for achieving each one will be different.
Here is an outline of how long it takes to achieve this project management certification:
Attend this Certified Project Management Course: 4 Days
Complete Self-Directed Learning and Assessment Work: 8 Weeks following training
Submit Assessment Work & Achieve Certification: 1 – 3 Months
You can get full details on the steps to certification by downloading our PDF brochure.
We include everything necessary to get trained and certified in one price for this course:
4 days of classroom training with our experienced trainer
Course materials and stationery
Lunch, parking and Wi-Fi at our training venue
Assessment and certification fees
There are 3 quick ways to instantly reserve a spot on one of our next Certified Project Management dates:
Use the Reserve My Place button on this page.
Click "Reserve" on your preferred date in the "Next Start Dates" section of this page.
Call us on Freephone 1800 910 810 to speak with our training consultants and secure your spot.
This course leads to a QQI Level 6 Project Management certificate. This certification is recognised on the National Framework of Qualifications (NFQ).
There is no sit-down exam associated with this course. Instead, you apply your learning to assessment work that you complete in the 8 weeks following training.
This assessment work includes a project and a written assignment. We provide you with detailed, supporting assessment briefs outlining what you need to include in your work.
The project you use for your assessment can be a real project (past, present or future), or a hypothetical project you choose.
There are no experience requirements for this course, and beginners often attend. We do find that it's helpful for participants to have some awareness or informal knowledge of how projects work.
We recommend thinking about and selecting a project case study to work with for your assessment. You will also use this project as the basis for exercise work during the course, so it's important to have a project in mind before starting the course.
The only thing you need to bring with you is your project case study idea. We provide all other course materials.
We do not supply the case study projects as it's important that you choose a project that is relevant to you to draw on for your project work.
This does not have to be a "live" project in progress, or even a real project you have worked on. It can be a hypothetical project.
It's helpful to think about something you would like to work on, either in your current role or somewhere you have worked previously.
Our trainer can guide you in how to work with your chosen subject, but it's important to have your project in mind when you begin the course.
Our public Certified Project Management Courses run in Dublin all year-round. We hold our training dates in venues close to the M50, so that they are accessible from all directions.
All training venues have complimentary parking
This course is 4 days long. We run this course during the week and training days run from 9.30am until 5.00pm.
QQI Certification
Our Certified Project Management Course leads to a QQI Level 6 Certification. We have created an article to answer the 10 most popular questions about this certification, including:
What is QQI Project Management?
How do I get certified?
Is QQI Project Management suitable for me?