QQI Project Management: Everything You Need to Know
Our QQI Project Management Course is extremely popular. There are three main reasons for this:
First, it's a very practical project management training.
Second, it leads to the respected QQI Level 6 Project Management Certification.
Third, it is suitable for all participants who want to gain project management skills and certification.
In this article, we answer some of the most frequently asked questions about QQI Project Management.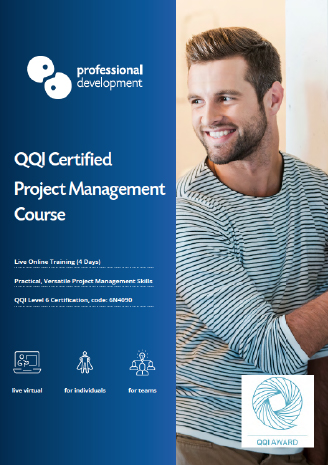 Get an Instant Overview
You can get access to information about our QQI Project Management Course by instantly downloading our PDF brochure.
This 20-page brochure includes deeper insights into how we deliver this course, student testimonials, and how you can achieve QQI certification.
Answered In This Article:
What is QQI Project Management?
QQI Project Management is a project management qualification developed by QQI (Quality and Qualifications Ireland). It sits at level 6 on the National Framework of Qualifications (NFQ).
QQI certifications are widely recognised and respected by employers. The award code for this certification is 6N4090.
The learning objectives for this certification programme are designed to support those who complete it in understanding how to run a project successfully from initial planning through to closing stages.
How do I get a QQI Level 6 Project Management Certification?
Begin by attending our 4 day, Certified Project Management Course.
Following the course, there is a self-directed learning period of 8 weeks. During this time, you will complete your assessment work and pursue further reading and project work.
You must submit all your assessment work by the end of this 8-week period. It will then go through grading and verification.
If you have successfully passed the assessment, you will receive your QQI Project Management certification within 3 months of submitting your work.
Do I need to take an exam?
There is no exam during the 4-day training course.
There is assessment work, which must be completed and submitted 8 weeks after you attend. Your trainer will ensure that you have a detailed outline of assessment work to be completed before the course is completed.
Is QQI the same as FETAC Project Management Certification?
QQI has now taken over the roles and responsibilities of FETAC, HETAC and NQAI. Therefore, this QQI Level 6 certification replaces the former, FETAC Level 6 certification.