Lean Six Sigma Green Belt FAQs
Published, 20th June 2022
Lean six sigma green belt is one of the most sought-after process improvement qualifications throughout many different sectors.
For several years, it has been one of our busiest courses, running throughout the year for public dates and in-company groups.
With so many students passing through our certification programme, we have come across pretty much every question about lean six sigma green belt you can imagine.
We have selected our top 12 most frequently asked questions and provided answers below.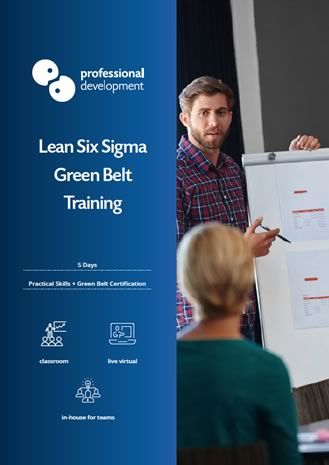 Download a Quick Guide to Green Belt
Download our PDF Lean Six Sigma Green Belt course brochure immediately for a detailed introduction to getting green belt certified.
This brochure includes important information about how you can achieve a green belt certification and a detailed introduction to our popular programme.
Jump to any section:
General Green Belt Questions
What does a "green belt" mean?
In six sigma, different levels of knowledge and experience are divided into "belts". Belts are qualifications achieved covering different depths of understanding and capability.
The belt levels are: white, yellow, green, black, and master black belt. Green belt is perhaps the best known of all levels.
A green belt will possess a strong, comprehensive knowledge of process improvement and be able to use lean six sigma tools confidently within their working environment.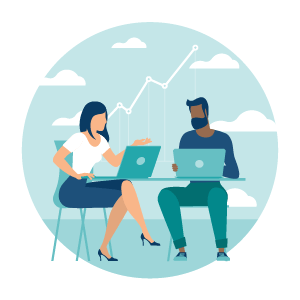 Read more..
What is the difference between yellow and green belt?
This is a very common question, as many potential students are torn between whether they should begin at yellow or green belt level.
The main difference between these two is that a green belt has a more in-depth understanding of lean six sigma tools and can utilise them in bigger projects than a yellow belt.
We recommend yellow belt for those who want a short but useful introduction to process improvement, and green belt for anyone who wants to gain a broader knowledge and skillset.
Read more…
Is a lean six sigma green belt worth it?
Yes, absolutely.
If you're interested in improving processes, making savings, and generally creating a more efficient workplace, lean six sigma green belt is an excellent choice.
It is a solid and respectable qualification for those who want to specialise in continuous improvement.
What is a lean six sigma green belt salary in Ireland?
A recent search* on Payscale.com showed an average base salary for green belts in the Leinster area of approximately €52K per year.
This salary will vary upwards or downwards depending on:
the role you're applying for
where you will be working (geographically)
what sector and organisation you choose
your own experience with process improvement
*search carried out on June 20th 2022
Lean Six Sigma Green Belt & Your Career
Will achieving a green belt help me get a job?
A lean six sigma green belt certification is a valuable addition to your CV.
Organisations are in need of those who can bring processes to higher efficiency, remove waste from tasks, and improve overall profitability. Certified green belts are known to possess these capabilities.
Of course, while the answer to this question depends on the roles you apply for, it is true that holding a respected qualification like green belt is an impressive and helpful asset to include in your resume.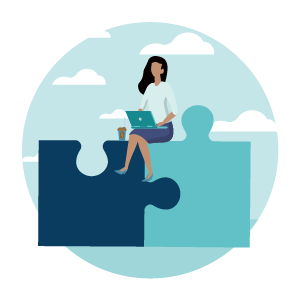 Who achieves Lean Six Sigma Green Belt?
This is a certification for anyone who is interested in improving how things are done.
It is not limited to any sector, any kind of business, or any particular role.
We welcome such a broad scope of participants on our courses, from sectors such as:
Pharmaceuticals
Finance & Insurance
Retail
Healthcare
Telecomms
Universities
Manufacturing
IT
Construction
Travel & tourism
Waste management
State organisations
Agriculture
Logistics & distribution
Hospitality
Do I need experience to get a lean six sigma green belt?
Although some green belt qualification programmes have entry requirements, ours does not.
Our Lean Six Sigma Green Belt Course is suitable for anyone who is interested in gaining skills and knowledge at green belt level.
The only requirement is commitment to focus for the course duration and assessment work following training (see "How do I get certified?" below).
Is lean six sigma only for the manufacturing sector?
Not at all; although lean and six sigma began in the manufacturing sector and are still strongly associated with this area, they are now used in almost every business worldwide.
You can see this reflected in the industries of our regular course participants listed above.
Lean Six Sigma Green Belt Certification
As there are so many different lean six sigma green belt certifications and programmes available, it is impossible to provide answers to the following questions that incorporate all options.
Therefore, we will offer guidelines and use our own programme as an example for each answer.
What is the best green belt certification?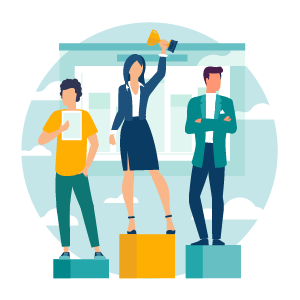 This is a question that many people have at the beginning of their research.
The answer is that there is no overall "best" certification, but there will be a right fit for your needs.
Altering the question slightly to "what is the best certification for my goals and requirements?" will achieve better results.
We always advise making a short list of:
your goals: what you want to achieve through completing training
your requirements: budget, time available, resources etc.
Once you have compiled your list, begin looking at different programmes available and ask plenty of questions until you find your perfect green belt match.
What level is lean six sigma green belt?
Our lean six sigma green belt course leads to a QQI (Quality and Qualifications Ireland) Level 5 certification.
This means that it sits at Level 5 on the National Framework of Qualifications (NFQ).
Does my green belt expire?
While some green belt qualifications may expire or need to be renewed, ours does not.
Once you have achieved both certifications associated with our lean six sigma green belt course, they will never need to be renewed.
How long does it take to get a lean six sigma green belt?
Here is an approximate timeline based on a typical certification cycle for our programme:
1. Training – 5 Days




Our course is delivered in a "live virtual classroom" format, meaning you can connect to real-time, interactive training online.

Each day runs from 9.30am until 5.00pm. There is usually a break of a week or so between days 1- 3 and days 4 & 5 of the course.

2. Assessment Work – 8 Weeks




Once training is completed, you will have 8 weeks to complete and submit the required assessment work.

Your tutor will begin preparing you for this work during training and we will provide you with guiding assessment brief to support your work.

3. Certification Process – 1 – 3 Months




When submitted, your work must go through grading and a series of quality assurance verification processes.

Once you have submitted the work, we can advise an expected timeline based on the QQI certification period in which you will be included.

How do I get certified?




There is no "sit-down exam" associated with our green belt training. Instead, there is written assessment work to be completed in the 8 weeks following your course.

This work includes a written assignment and a process improvement project (real or hypothetical).

This approach is very effective in cementing your knowledge and building your confidence using lean six sigma techniques.

Get more details




You can learn more about certification, assessment work, and your process improvement project by downloading our course brochure.

Getting Started

If you're ready to get started on your green belt, you could begin with a browse through our 5-day programme.

Here are some quick highlights and details:

Lean Six Sigma Green Belt – QQI Certified – 5 Days

€950 (including certification)

Live online training delivered by experts
Suitable for all backgrounds
Versatile skills through practical learning
Achieve two green belt certifications

Any Other Questions?

If you have any other questions about lean six sigma green belt, we will be happy to answer them.

Here are 3 ways to get in touch with our team:

1. Call Us




You can reach us by phone at either Freephone 1800 910 810 or 01 861 0700.

Talk to one of our consultants, all of whom have plenty of experience with lean six sigma certifications.

They can offer helpful guidance and advice focused around your goals and your career development.

Call Us

2. Ask a Question Online




If you would prefer to get in touch online, or are contacting us outside of office hours, using the "Ask a Question" button below is the best way forward.

Send us your question or questions and we will respond as soon as possible.

Ask a Question

3. Request a Call Back




Ask us to call you. Using the "Request a Call" button below, send us your details and we will call you back.

Request a Call