How much does a project manager make a year?
There is no doubt that a career in project management is a wise choice. Right now, project managers are in demand in every sector.
If you're a skilled, certified project manager, you will always find work easily. Great news, but this prompts the logical question, will you be paid well?
In this article, we take a look at the answers to the popular question "how much does a project manager make a year?".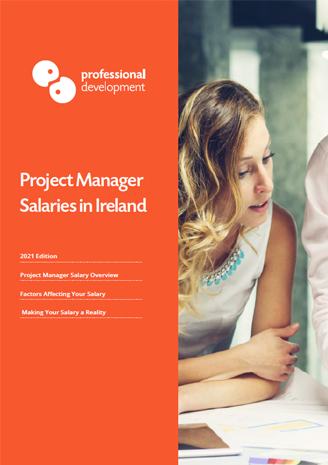 Get an Instant Overview
You can get access to all the information instantly by downloading our PDF guide.
Stay up to date with our latest project management reports and articles by subscribing to our latest project management news.
---
In This Article:
---
A Project Manager Salary Overview
According to Glassdoor.ie, 2022 Project Manager salaries in Dublin average at around €65K per year*.
*based on September 2022 figures
Project Management Institute (PMI)® Salary Survey
The 2020 edition of the PMI's industry-respected annual salary survey, "Earning Power: Project Management Salary Survey — Eleventh Edition" surveyed more than 500 project managers in Ireland.
PMI® reported a median salary of €72, 513 ($85, 829) of those surveyed for the report.
Interestingly, Ireland came in as the 7th highest median salary of the 42 countries surveyed.
In addition, the report states that 72% of the participants surveyed reported that their total compensation (which includes salary, benefits, bonuses etc.) had increased in the 12 months before the survey.
5 Factors Affecting Your Salary
This is an excellent guideline, but it's worth bearing in mind that it is just that: a guideline.
How much you make as a project manager will depend upon several factors:
Your experience
Your training and qualifications
Your versatility
Where you are located
What industry you want to work in
Let's take a closer look at each of these factors...
1. Your Experience
It goes without saying that more experienced project managers have the potential to command a higher salary than those who are new to the role.
Glassdoor reports that senior project managers earn an average of €76K per annum. On the other hand, Glassdoor also notes that "Project Coordinators" (junior to project managers) usually earn around €32K per year.
You can see a solid progression in salary throughout the different levels of expertise and experience here.
2. Your Training and Qualifications
Training is certainly a crucial factor in building a successful project management career.
Along with hands-on experience, it is the most important element in developing your abilities as a capable project manager.
Through training, you'll gain knowledge and understanding of project management tools and techniques, learn how to avoid common project management pitfalls, and work towards gaining qualifications.
Not all project managers get qualified, but it's certainly very beneficial for your career if you do opt to achieve a project management certification.
4. Your Location
The figures reported above from Glassdoor are based on project managers working in the Dublin area.
You may find that figures vary in different geographical locations.
It's a great idea to do a little research around the kind of salary you could earn in different places.
5. Your Industry
You may be surprised at the variance in project management salaries between different industries.
In Ireland, we're fortunate to have a wealth of local and multinational organisations across so many different sectors. As with location, doing some sector salary research is very valuable.
We do, however, recommend focusing on sectors that are of interest to you. You'll gain much more satisfaction from executing projects in industries with challenges and subjects that catch and hold your interest.