Project Management Certification: A 2022 Guide
Originally published, 2016. Updated September 2022.
No matter what stage you're at in your project management career - beginner, intermediate, advanced, or even simply considering a move into managing projects - project management certification matters.
This article is a 3-minute guide that answers some key questions and provides useful tips that help you to find the most beneficial certification option for your career.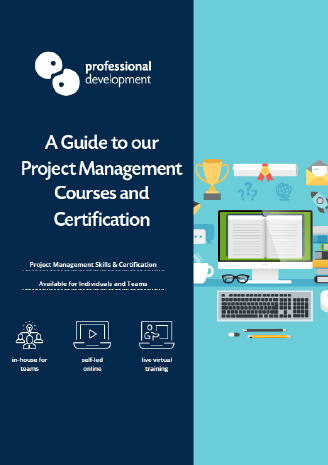 Download the Full Guide
You can download our complete PDF guide to project management certification and training instantly.
This 21 page guide contains guidance on choosing the right course, an overview of our most popular certifications, and steps you can take to get started.
In this Article
Ask us Anything
If you have any questions on project management certification that we don't answer here, we would love to hear from you.
You can call us directly at Freephone 1800 910 810 or use the "Ask a Question" button below to get in touch online.
Ask a Question
Do you need project management certification?
There are many project managers carrying out the role informally, with no training or certification to back them up. While this can get you by for some time, it's not a great plan in the long-term.
If you haven't completed formal training and certification, you won't have the support or structure that these two elements bring.
Without a reliable framework and trusted project management techniques, you can expect:
projects that exceed both budget and schedule.
projects that don't quite achieve their aims.
a higher level of stress and uncertainty when running a project.
difficulty planning your project.
communication problems with teams and key stakeholders.
Top 5 benefits of project management certification
The bottom line is that you need the skills and reliability of a project management certification to:
reach your potential as a project manager
run projects that deliver exceptional results
establish your credibility as a skilled, capable project manager
There are many reasons why you might choose to get certified.
To help you decide whether a project management qualification is the right choice for your career, we have listed our top 5 project management certification benefits here:
1. Flexible Skills = Flexible Ability
Our certified project management courses teach skills and methodologies that can be adapted to projects in every sector. This gives your project management skills greater versatility and helps put your career on the map.
2. Achieve More
By utilising tried-and-trusted frameworks developed by international certifying bodies, such as the Project Management Institute, Inc. (PMI)®, you will achieve more consistent results from your project work.
3. Gain Respect and Credibility
Achieving a recognised certification advertises your level of skill and competency with potential employers and clients. It also underlines your capability and dedication to quality.
4. Longevity and Progression
Any thriving career needs continuous professional and personal development. Expanding your knowledge and skillset through project management certification paths enables this progression.
5. Increased Earning Potential
Certified project managers consistently earn more than non-certified project managers. You can read more about the kind of salary certified Irish project managers can expect in our article, Project Manager Salaries in Ireland.
What qualifications do you need to become a project manager?
If you are at the beginning of, or thinking about a career in project management, it's likely that you've noticed just how many different certifications are available.
There is no one definitive qualification or set of qualifications you need to become a project manager.
Rather, it is about choosing the right project management certification for your career and your current goals. You can get more tips on defining your goals and choosing the right project management path in our article, "What is the best project management course?".
Tip
If you plan to work in a certain sector or organisation, we recommend that you look into the certifications that are popular or even mandatory where you want to work.
What is the best project management certification?
Asking which certification is best is quite like asking what is the best project management course. As we mentioned above, there is no definitive answer.
The project management qualification you choose should match the kind of projects you work with and your project management career goals.
In Fact...
The best project managers are continually upskilling, expanding their capabilities with new training and certification.
Therefore, the most important thing is to get started. Choose a course and certification that fits your current interests and goals and then keep applying this formula every time you're ready to learn more.
What project management certifications are popular now?
With almost every industry incorporating some focus - and in many cases full focus – on more adaptive project management approaches, Scrum and Agile certifications are definitely in demand.
Perennial favourites like the Project Management Professional (PMP)® and PRINCE2® remain firmly present in top project management certification polls like CIO's Top 13 Project Management Certifications for 2020".
This is partly due to their stellar reputation as two of the longest-established and best recognised qualifications worldwide. The fact that both methodologies have consideration for and work well with agile approaches is also a contributing factor.
Certification in Scrum Roles
In recent years, we have observed a steady growth of interest in training and certification for Scrum Team roles such as Scrum Master and Scrum Product Owner.
Should you choose an Agile or Traditional Project Management Certification?
This question is becoming more of a priority for project managers in all sectors, not only the IT sector where Agile originated.
As Agile and Scrum approaches become common in a large proportion of organisations, project managers are wondering which certification will serve them best: traditional (predictive) or Agile (adaptive).
We have noticed that a high proportion project managers are choosing both. This is a very wise choice, as project managers today will need the benefit of both skillsets.
Projects often require a hybrid approach to accommodate the changing requirements of today's business climate. The role of "project manager" now includes a requirement to determine which methodology – or blend of methodologies (hybrid) – will achieve the best outcome for the project.
Choosing the Right Combination
If you decide to opt for both agile and conventional project management certifications, this opens up a new set of questions: where should you begin? what combination of certifications should you choose?
New Project Managers
If you're new to project management, you might consinder a practical, conventional course like QQI Project Management and either an Agile Master Certified (SAMCTM) or Scrum Master Certified (SMCTM) qualification.
Experienced Project Managers
Those with significant project management experience should look to PRINCE2® Certification that pairs well with Agile, or to the Project Management Professional (PMP®) credential, which now incorporates a blend of conventional, agile, and hybrid approaches.
Get Tailored Advice
Our consultants can offer expert advice on choosing the right combination of traditional and agile certifications to benefit your career.
You can reach us by phone (Freephone 1800 910 810 / Dublin 01 861 0700) or by asking a question online.
Ask a Question
Our top project management certifications at a glance
PRINCE2® Certification
PRINCE2® is a project management methodology adopted for projects of all sizes and in all industries.
It's one of the world's most widely-utilised project management approaches. Many large organisations and government agencies use PRINCE2® as their primary method for managing projects.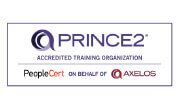 PMI® Certification
The Project Management Institute, Inc. (PMI)® is a globally-renowned awarding body for prestigious project management certification.
Their Project Management Professional (PMP)® credential is often called the "gold standard" of project management qualifications.
QQI Certification
QQI certifications are well-recognised in Ireland and abroad.
They sit on the National Framework of Qualifications (NFQ), which is "A framework for the development, recognition and award of qualifications in Ireland".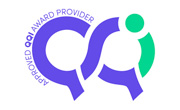 We recommend our QQI Certified Project Management Course for anyone who wants to gain practical project management skills.
Agile and Scrum Certification
Agile is rapidly becoming one of the most popular project management methodologies available.
It is specifically designed for projects that may be subject to regular changes and require a shorter value delivery lead time.
Scrum is a form of Agile centred around tightly-knit project teams with clearly outlined roles.
We offer both live virtual (trainer-led) and e-learning (self-led) courses that lead to internationally recognised Agile and Scrum certifications.
How Long Does it take to get a Project Management Certification?
The timeline will vary depending on the training and project management qualification you choose.
Our project management courses follow a streamlined, 3-step process:
Attend Training


Study or Assessment Work


Exam or Assessment Submission
We include details on the steps required to achieve certification and how long it usually takes to get certified on each project management course page and brochure.
Advice and Further Resources
If you're ready to get started, here are some helpful resources for your next steps:
Talk to Us




You can call our training consultants on Freephone 1800 910 810 during office hours (Mon - Thurs, 9.00am - 5.30pm, Fri, 9.00am - 5.00pm). You can also ask us anything about getting certified or request a call back by using the buttons below.

Browse our Project Management Courses




Take a look through some of our project management courses and certifications. On each course page, you can get full course details, upcoming dates, and download a PDF course brochure.

Further Reading




View and download our detailed PDF guide to choosing the right project management course and certification for your continued development.

You can also tap into our library of project management articles by visiting our project management blog.