Thinking About a Career in Training?
A career in professional training is an excellent path to choose. There are so many routes to explore once you have gained your initial qualifications and have begun gathering experience.
This 4-minute article is designed to outline the role of a trainer, give you tips on deciding whether training is the right option for your career, and provide you with steps that will take you from where you are now to becoming a certified trainer.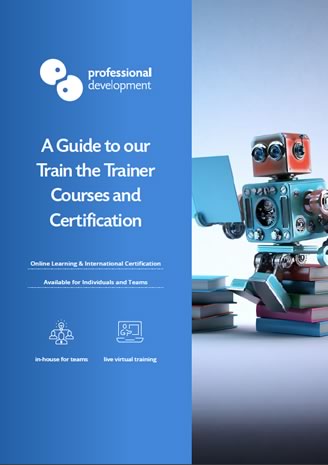 Get an Instant Guide
Download our 20-page PDF Guide to Train the Trainer instantly using the button below.
This guide is the perfect place to start your Train the Trainer research, with insights into what makes a good trainer, who chooses a Train the Trainer certification, and how you can get started.
In this article, we'll look at the following:
What is a Trainer?
"Trainer" is a very broad term, but what we are discussing in this article is someone who has the skills and knowledge to train others in various subjects.
There are 2 key elements to consider here:
The ability and skills to train others.
Knowledge of the subject you are training others in.
The first can be learned through completing a Train the Trainer course.
The second is something you have gathered in your previous experience, or will gain as you progress in your training career.
Professional Training
If training is something that really resonates with you, you may wish to pursue it as your main career focus.

In Ireland, there is widespread demand for skilled, certified, knowledgeable trainers.
Training Within Another Role
Perhaps being a trainer is something you envision as part of another role.

HR professionals, team leaders, business owners, and supervisors are regular participants on our Train The Trainer courses.
10 Skills All Trainers Need
1. Training Needs Analysis (TNA):

The ability to identify training needs accurately.



2. Design:

Once you have identified the objectives for training, you'll need the right design skills to create a training programme or session to achieve those aims.



3. Organisation:

Many elements of preparation and organisation play a crucial part in the success of your training.



4. Adaptability:

When training, you'll find that unexpected questions arise and that situations can change. Being able to think fast and adapt makes you a more successful trainer.



5. Presentation:

This encompasses both your personal presentation (appearance, tone of voice, body language etc.) and your presentation skills (power point, handouts etc.)



6. Working with Groups:

Group dynamics can be complex, but learning how to work with different groups is an important part of a trainer's role.



7. Specialist Subject Knowledge:

This is the subject you want to train others in, and will depend upon your background and previous qualifications.



8. Communication:

In addition to your abilities in public speaking, you'll need to develop the skill of listening actively and know how to ask the right questions to keep your trainees engaged and ensure they understand the materials.



9. Timing:

You'll need to be well-prepared and have material that is time-planned to avoid running over. Learning to keep the session moving when discussions run on, or complex questions arise is another key skill for trainers.



10. Evaluation:

There are several methods used to evaluate the success of training. You must evaluate to know whether training needs have been met and to assess your own performance for further improvement.
Is Being a Trainer Right for You?
If you read through the 10 key skills listed above and found yourself interested in learning these skills, read on.
Here are 3 questions to ask yourself if you're thinking about learning to train others:
What will I train?


Which of the skills above do I need to work on most?


How do I want to train?
What qualifications do you need?
There are many different certifications available for potential trainers. We have found that the most popular are the QQI Train the Trainer awards.

If you have a strong preference to working in a particular area or company, we always recommend doing some research about the training qualifications required for this specific sector.
How can you become a Trainer?
As we mentioned above, there are many certifications and therefore many routes. Here is our focused, streamlined path to becoming a trainer:
Step 1: Find the Right Course
QQI Training Needs Identification and Design - QQI award code: 6N3325
Each of our Train the Trainer Courses follows the natural flow of
the Training Cycle
- a 4 stage cycle that professional trainers follow.
This course focuses on the first two stages:
Identify and Design
. Over 3 days, you'll learn how to carry out a
training needs analysis (TNA)
to assess what training is needed and ascertain training objectives.
You'll also gain insights into
adult learning styles
and learn to
design
an effective, engaging training programme.
Get Course Brochure
•
View Course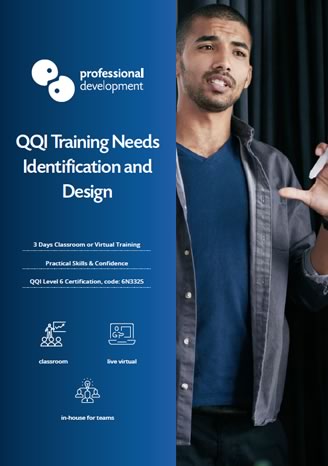 QQI Training Delivery and Evaluation - QQI award code: 6N3326
Training Delivery and Evaluation is perhaps our
most popular course
. It runs every month, with places filling up fast. This course is often called
"Train the Trainer"
as it is very similar in content and focus to the old FETAC Train the Trainer.
The second two stages of the Training Cycle -
deliver and evaluate
- are covered on this course.
Over the 4 days, you'll work on
training delivery skills
such as public speaking and presentation, working with
group dynamics
, handling unexpected questions, and overcoming nerves.
You'll also gain an understanding of
evaluation methods
and how to apply them to your own training sessions.
Get Course Brochure
•
View Course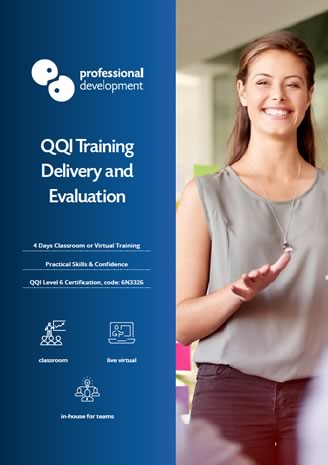 QQI Special Purpose Award in Training and Development - QQI award code: 6S3372
The QQI Special Purpose Award in Training and Development is a very
wise choice
for those considering a career in
professional training
.
By completing both
Training Delivery and Evaluation
and
Training Needs Identification and Design
, along with passing assessments for both, you will automatically achieve this
QQI Special Purpose Award
.
Get Course Brochure
•
View Course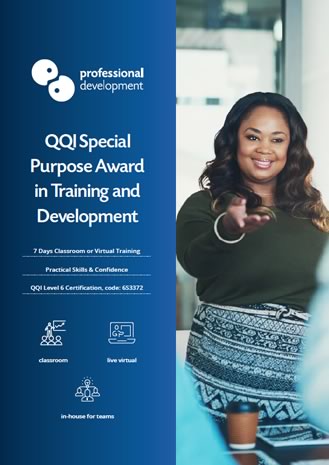 Step 2: Attend Training and Build Your Skills
Once you have decided on the right route for your training, taking action as soon as possible is the best next step.
During training, you'll not only gain knowledge, but also confidence in your abilities and feedback from our experienced training professionals.
Step 3: Assessment Work and Self-Directed Learning
In the 8 weeks following training, students complete further, self-led learning and their assessment work.
We provide all students with detailed supporting documents to help them in completing this work.
Step 4: Achieve Certification
Once you pass your assessments and receive your QQI Certification, you're a qualified trainer.
It's now time to get started on building experience, getting your name out, and cultivating a reputation for excellence.
Get Advice for Your Career
If there's a question we haven't answered in this article, we would love to hear from you.
You can reach our training consultants by calling Freephone 1800 910 810 (Monday - Thursday, 9.00am - 5.30pm, Friday, 9.00am - 5.00pm).
You can also click below to ask a quick question or request a call back from our team.