What is a Scrum Master?
In this article, we try to answer the question "What is a Scrum Master?" as fully as possible.
We investigate what a Scrum Master does, where they fit within the Scrum Team, and examine why you might want to achieve a Scrum Master Certification.
We also give you our 3-step guide to becoming a certified Scrum Master.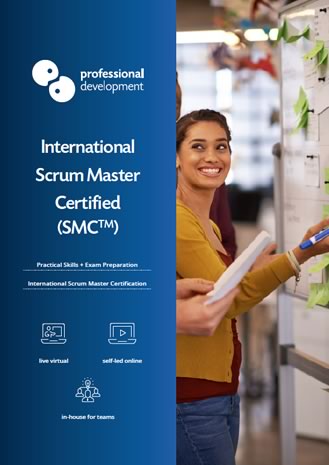 Get the Details Instantly
You can get all of the information in this article plus a full Scrum Master course outline and student reviews by downloading our PDF brochure.
If you have any questions we don't answer in this article, we would love to hear from you. Use the Ask a Question button below to get in touch with your Scrum Master question.
Jump to any Section
What is a Scrum Master?
Scrum Master is perhaps the most widely-recognised role within a Scrum Team.
This could be because Scrum Masters play such a key part in implementing Scrum effectively during a project.
The role of Scrum Master aligns closely with the more traditional role of "project manager".
Let's take a closer look at what a Scrum Master does and where they fit in within the Scrum team.