Where to begin?
You may already have a certification in mind, or be ideally placed for a particular Scrum role. You might just be curious about Agile and Scrum and beginning your research. Either way, we've got you covered.
You can read a brief synopsis of each course we offer below or download any of our PDF brochures.
Good to Know: Free Content
No matter where you're starting from, it's good to know that whichever of our online Agile and Scrum options you choose, you'll gain an introductory training free of charge.
When you purchase any of our online Scrum or Agile courses (listed below), you'll gain complimentary access to Scrum Fundamentals Certified (SFCTM). This is an online introduction to Scrum with 10+ hours of online learning content.
It's the perfect starting point for anyone interested in learning more about responsive project management.
Which course is right for you?
Here's a quick look at our online Agile and Scrum courses: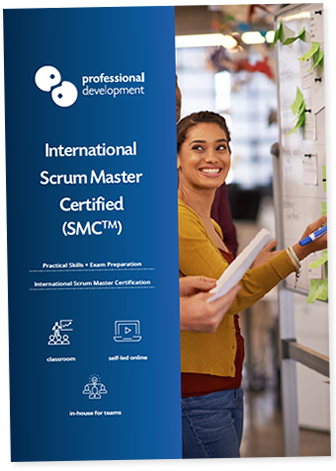 Right For You If: You want to be a Certified Scrum Master
This is our
most popular certification
, most likely because Scrum Master is the
best-known role
within a Scrum Team.
Our Scrum Master Certified (SMC
TM
) Course is designed to equip you with a confident
knowledge and understanding
of the role of Scrum Master. You'll also be able to achieve an international Scrum Master Certification (included).
Still not sure? (More Resources)
Get Advice from our Expert Scrum & Agile Consultants
Talk to us if you're not sure where to begin. You can call us at Freephone 1800 910 810, or click below to ask "Which Course for Me?". Talk to our training consultants – who are trained and certified Scrum Masters - about your options. They can advise on the right next step for your career.
Read More About Scrum & Agile
If you'd like to get more of a handle on the origins and structures of both Scrum and Agile, we suggest taking a few minutes to read these 7 popular introductory articles: