How Good Are Your People Management Skills?
People management is easy, right? Wrong...
We're all people who have been interacting with other people throughout our lives. Given this, you'd think that people management skills would come naturally enough.
The truth is that most managers find managing people a real challenge. If you're finding this element of management difficult, you are not alone.
People management skills are often classed as a "soft skill" in business. In this case, "soft skill" is a misleading term. We regularly hear that people find this one of the trickiest areas of their management, supervisory, or team lead role.
This is probably why the QQI Certified - Managing People Course is one of our most popular programmes!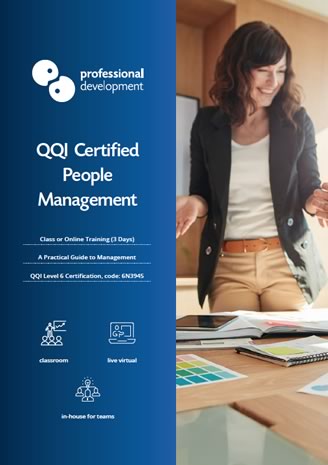 Fast-Track Your People Management Skills
Gain an effective, versatile people management toolkit through our popular, 3-day QQI People Management Course.
You can get access to information about our People Management Course by instantly downloading our PDF brochure.
In This Article:
People Management Skills: Are you getting it right?
This can be a tricky question to answer.
Rather than sending a questionnaire around your workplace for ratings on your people management, the best starting point is asking yourself if you find it easy to work with others.
How to accurately answer the question: "Do you find it easy to work with others?"
Do you find that many of your day-to-day obstacles involve dealing with others?
Everyone faces obstacles in their working life, but there is a difference between difficulties arising from a situation and difficulties arising from your interaction with other team members.
For example, let's imagine you are managing or leading a team that is working on a way to make handling customer queries more efficient.
If the project issues are mostly related to resources and information available to you and your team, or bridging a gap in the current process, then your challenges are situational.
If however, the project obstacles involve miscommunication, conflict, low morale, or low engagement within your team, or between you and your team, the challenges are people management orientated.