Predictive and Adaptive Project Management
There are so many excellent project management methodologies available for today's project manager.
In the past decade, we've seen a natural gravitation for each method into one of two categories: predictive or adaptive.
What are predictive and adaptive approaches? How do they impact a project? Which should you choose?
In this short article, we look at answers to these questions.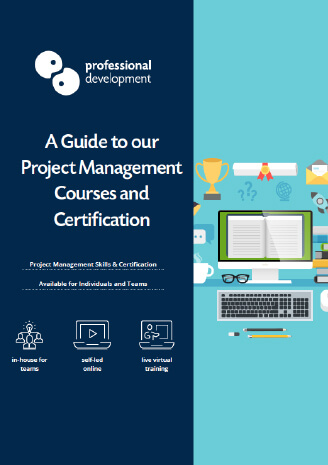 Want a quick overview?

Download our brochure, "Guide to Project Management Courses" to get fast access to the predictive and adaptive courses and certifications we offer.


In this Article
What is Predictive Project Management?
Predictive project management refers to when the scope of work and requirements for the project are clear and justify the detailed upfront planning.
You'll also see predictive project management called "traditional", "conventional", or "Waterfall" project management.
Some of the most popular predictive approaches include:
What is Adaptive Project Management?
Adaptive is when the scope of work and requirements for the project are difficult to define, therefore creating a rapidly changing environment.
Requirements are clarified in short iterations (cycles) and therefore require an Agile approach.
Adaptive project management can also be referred to as "responsive" or "iterative". It is most often simply called Agile project management, "Agile thinking", or "an Agile approach".
There are several different frameworks used to implement Agile, all of which sit under the Agile umbrella of adaptive project management.
These frameworks include:
More about Agile
You can learn more about Agile, its origins, and the different Agile frameworks available in these popular articles:
Which approach is better?
There is no "better" approach, only what fits the project you're working on.
If you think about it, every project is unique. Even within organisations that carry out similar projects regularly, you'll find differences in scale, scope, and requirements.
For this reason, considering the project first and then selecting the right methodology is the best approach.
Choosing a Hybrid Approach
Predictive and adaptive approaches can work extraordinarily well together.
You may - as project teams everywhere are doing more and more – choose a hybrid of methodologies to get the best result for your project.
For example, PRINCE2® works extremely well when combined with Agile.
The solid structure of PRINCE2® combined with the flexibility of Agile can support a project requiring a blend of predictive and adaptive influences.
The PMI's PMBOK® Guide framework includes a consideration for Agile, giving you room to incorporate elements of adaptive into your predictive project work.
What's best for your projects and your career?
We have found that more and more of our students are choosing to train and certify in several different project management methodologies.
It make sense for 3 reasons:
Better Project Results:




The more you know, the more you can do.

Possessing an understanding of and capability with several different approaches opens up a whole new range of possibilities for what your project can achieve.

Wider Career Horizons:




A project manager who is trained and certified in a number of respected methodologies is a highly valuable asset.

Achieving different project management certifications enables you to choose exactly where you want your career to take you.

Higher Level of Job Satisfaction:




Continuing to learn and grow within your chosen profession keeps you sharp, focused, and motivated.

Being able to work on a wide scope of different project types, finding creative solutions, and achieving new high levels of performance for your project team is extremely rewarding.