PRINCE2® vs PMP®: Your Helpful Guide
Originally published 2019. Updated September 2022
PRINCE2® vs PMP® is a very hot topic for project managers across the globe.
In this article, we've laid out our guidelines and advice for choosing between PRINCE2® and PMP® certification.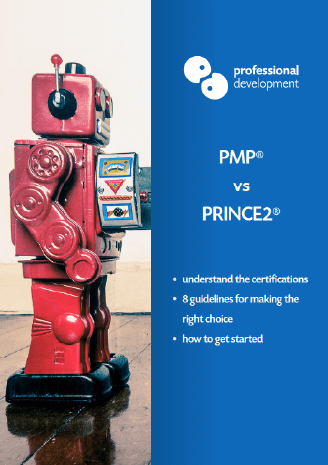 Get the PDF Guide
You can download our PDF guide, "PRINCE2® vs PMP®" to save all of the information in this article, plus additional insights on getting started with each course.
If we don't answer your question in this article, we would love to hear from you. Use the "Ask a Question" button below or call us at Freephone 1800 910 810 to get in touch with our experienced consultants.
In This Article:
PMP® or PRINCE2® – what's all the fuss about?
PRINCE2® and Project Management Professional (PMP)® qualifications are known and sought-after around the world. They are both recognised as the mark of a skilled, capable project manager.
Because of this, many of our clients have difficulty deciding which qualification to work towards when they first get in touch with us.
Both qualifications are excellent choices, and we believe that neither is a "better qualification".
However, it is true that one may suit where you are in your career more than the other at this moment.
Read on to find out which is right for you…
What is the PMP® Credential?
The Project Management Professional (PMP)® is known globally as a credential for experienced, established project managers.
As you must have a set amount of experience (see below) to apply for the PMP® Exam, employers and clients instantly recognise the calibre of PMP® credential holders.
PMP® is a Project Management Institute, (PMI)® credential. The PMI® is a not-for-profit organisation, founded in 1969.
What is PRINCE2® Certification?
PRINCE2®, which stands for Projects in a Controlled Environment, is favoured by many government and multinational organisations for project work.
It's an approach to project management that focuses on defined team roles, a strong structure, and the option for tailoring.
PRINCE2® is owned by AXELOS, a UK-based organisation established in 2013. AXELOS aim to always remain at the cutting edge best-practices in project management.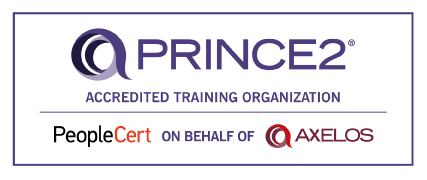 How to decide what's right for you: 8 important factors
Both qualifications are wise choices for any project manager seeking to expand their skill-set and progress their career.
To help you make the best possible decision for your own professional development, we have grouped the key differences into 8 deciding factors.
A Quick Note:
Where references to timelines and specific training details are required, we have used our training programmes as examples.
1. Credibility
Both qualifications are respected throughout the global project management community.
They work towards progressing project management careers and organisational success through project management.
2. Regional Demand
Both qualifications are recognised on a global scale, but you may see slight preferences or higher levels of popularity in some regions.
For example, PRINCE2® holds an advantage in the UK, while PMP® is more popular in the US and Canada.
Both PRINCE2® and PMP® are recognised and sought-after in Ireland.
If you are working with - or want to work with - a particular organisation, check out which methodologies they use for managing projects. If they prefer either PMP® or PRINCE2®, that could guide your decision.
3. Approach
While both PRINCE2® and PMP® are considered "predictive" or "conventional" approaches to managing projects, they are both very agile-friendly.
PRINCE2®
Based on 7 Principles, 7 Themes, 7 Processes.


Focus on project team with clearly outlined responsibilities for each role.


Ability to tailor and scale to fit project and environment requirements.


Can be combined with other methodologies, including Agile
Learn more about how PRINCE2® Project Management Works... PMP®

Focus on 3 domains: People, Process, Business Environment


Exam and syllabus for this course is currently 50% predictive (traditional) and 50% adaptive (agile) with plenty of consideration of hybrid (utilising both) approaches.


Suitable for projects in any industry and can be scaled to work for projects of any size.



4. Path to Certification
The route to getting certified for both of these qualifications is quite similar:
Exam Preparation Training + Study Period + Online Exam
Here's a breakdown of what that entails:
PRINCE2® Timeline: 5-Day Course + Self-led Study + Exams (1-hour Foundation + 2.5-hour Practitioner)


PMP® Timeline: 5-Day Course + Self-led Study + 4-hour Exam
5. Study Period
The self-led study period duration varies from person to person.
Generally, our PRINCE2® students have a shorter study period than is needed for the PMP® exam.
They usually complete their Foundation level exam in the short break between Days 1 – 3 and Days 4 & 5 of training.
The average study period time for PMP® students is between 4 – 6 weeks following training.
6. Exam
PRINCE2® Exam
To achieve PRINCE2® Foundation and Practitioner certifications, you need to complete 2 exams.
Foundation Exam:
1 hour
60 multiple-choice questions
55% pass mark
scheduled outside of training
Practitioner Exam:
2.5 hours
68 multiple-choice questions
55% pass mark
scheduled outside of training
PMP® Exam
230-minute duration with two 10-minute breaks
180 questions of different styles (multiple choice, matching, fill in the gap, multiple responses)
pass mark is calculated using a psychometric analysis.
applied for and taken after training
The PMP® pass mark was previously known to be 61%. However, the psychometric analysis system used by the PMI® for exams today does not disclose a pass mark.
7. Maintenance
Both certifications work on a 3-year cycle for renewal. Let's take a closer look at how each works…
PRINCE2®: 3-year cycle
Witihn 3 years, you will need to renew your certifications in one of the following 3 ways:
resit the Foundation and / or Practitioner exam (depending on which you hold)
collect and log professional development points via PeopleCert's MyAxelos membership platform
take further PeopleCert certifications. One of these actions is necessary before the renewal date.
PMP®: 3-year cycle
You must earn 60 PDUs during a 3-year cycle that begins on the day you pass your exam.
A PDU is a Professional Development Unit. 1 PDU equals 1 hour spent at training, seminars, lectures etc.
8. Eligibility Requirements
PRINCE2® – No eligibility requirements
There are no official eligibility requirements for the PRINCE2® Foundation and Practitioner.
However, as it's an intensive exam preparation course, we always say that some experience working on projects is helpful.
PMP – 3+ years required
You can read the full breakdown of PMP® eligibility requirements in our article, "Understanding the PMP® Exam Requirements".
If you have less than 3 years of experience working on projects, PMP® is not the next step for your career right now.
PRINCE2® could be a better fit, with the intention to add further credibility to your skill and experience with a PMP® credential once you have the required experience.
If you have 3 or more years' project experience, PMP® is a natural progression for you.
Let's talk about PRINCE2® vs PMP® salary
Of course, salary potential is often a factor for those weighing up PRINCE2® vs PMP®.
It is clear that project managers who hold established, respected certification can achieve a higher salary.
For example, a recent PMI® salary study stated that PMP® certification holders earned an average of 23% more than those without PMP® certification.
It is important to note here that the salary you can command is closely tied to the methodology favoured in the organisation or industry you choose.
We strongly recommend looking into how projects are used within your sector or the sector in which you wish to work.
Use that information as one of your guiding principles for choosing a qualification.
Combining for Maximum Benefit
If you feel you still can't decide between these qualifications, you might consider achieving both.
These days, most professional project managers work with many different methodologies and achieve more than one qualification.
If you're relatively new to project management (less than 3 years' experience), we recommend starting with PRINCE2® certification, then progressing to PMP® later.
If you have extensive experience, both certifications are available to you.
It's a good idea to review the content and focus of each course to decide which will benefit you most in your role right now.
Talk to Us
If you would like advice on which certification to choose, based specifically on your needs and experience, why not discuss your options with our training consultants?
You can reach us at Freephone 1800 910 810 (mon – thu 9.00am – 5.30pm, fri, 9.00am – 5.00pm), or Ask us A Question Online.