PMP® Certification: Your Complete 2022 Guide
Originally published, September, 2020. Updated September 2022.
If you're considering PMP® certification, this 3-minute guide is an excellent starting point.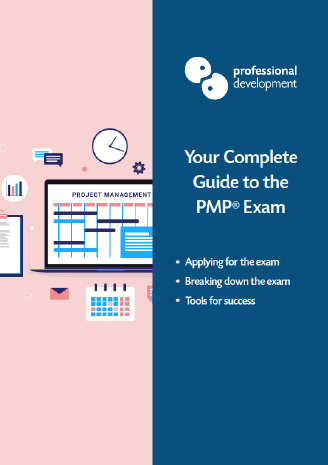 We have compiled this article as a handy tool you can use when making plans and decisions about PMP® certification.
Here, we answer the most frequently asked questions, provide insights and tips for the new PMP® Exam 2021, and give you step by step guidelines for achieving PMP® certification.
Download our PDF guide to the PMP® Exam to save all of the information on this page and gain added material.
Download Guide
Jump to Any Section:
Need More Answers?
In this article, we have answered the questions we hear most often about PMP® certification.
If we haven't answered your question here, we would love to hear from you. Get in touch with us by phone (Freephone 1800 910 810) or online using the button below.
Is it worth getting PMP® Certification?
Our short answer is "yes".
PMP® is one of the most popular project management certifications worldwide.
In fact, you will often hear this credential being referred to as "the gold standard" of project management qualifications.
Here are 4 major advantages of achieving a PMP® certification:
1. Cement Your Credibility
The PMP® credential is known as a qualification for experienced, high-performing project managers.
It acts as a calling card for your skill and capabilities to other project managers and team members, and also to potential employers or clients.
2. Expand Your Salary Potential
Did you know that on average, PMP® credential holders earn up to 23% more than non-PMP® credentialed project managers? (source)
Holding such a highly respected credential gives you greater earning potential and expands your opportunity for new career challenges.
3. Keep Your Skills Current & Relevant
The PMP® exam outline is regularly revised and updated to stay at the cutting edge of project management techniques and skills.
For example, a new PMP® exam came into effect on January 2nd, 2021. It was updated to reflect the expanded, adaptable role of project managers today.
4. Confidence in Traditional and Agile methods
Project managers in every sector need to have confidence with both conventional (predictive) and agile (adaptive) methods for running a project.
They must also know how to select the right approach – or blend of approaches (hybrid) – for each initiative.
The current PMP® exam outline provides an equal focus on predictive (traditional), adaptive (agile), and hybrid (a blend of both) project management methods.
Who is eligible for PMP® certification?
The PMP® credential is specifically designed for experienced project managers. Therefore, it has eligibility requirements that must be met by all exam candidates.
There are two eligibility routes, both requiring experience as an active project manager, prior education, and a specified number of formal training hours.
Are You Eligbile?
There are 3 ways you can find out if your experience matches one of the eligibility routes:
Speak with one of our consultants about your own background in project management. You can call us directly (Freephone 1800 910 810) or ask us a question online.



Download our PDF PMP® Course brochure. Both eligibility routes are outlined clearly here.





Learn more about the PMP® eligibility requirements in our short article, "Understanding the PMP Exam Requirements".