Why Choose Us for Your Online Train the Trainer?
There are many providers offering online Train the Trainer courses right now. Here are 5 reasons why choosing our online live virtual course is a wise choice:
99.6% Pass Rate*
Our pass rates speak for themselves. Over the past few years, we have trained and certified
hundreds
of students in Train the Trainer, with a strong
99.6%
pass rate.
93% of our Learners Achieved Merit or Distinction Grade*
In the same time period,
93%
of our students achieved a
Merit
or
Distinction
grade. These are the
highest possible
grade bands within the QQI grading system.
* based on all students within a 30-month period, calculated May 2020
A Proven & Convenient Format for Success

As you can see from the pass rates above, our approach to Train the Trainer is a successful one.

We have perfected our format for Train the Trainer over years of delivering courses and incorporating feedback from past students. The result is a focused, 4-day course with plenty of active learning, group work, and support from expert trainers.
30+ Years of Experience

Professional Development has been in business for more than 30 years. We are an established, trusted provider of training and QQI certification in Ireland. We deliver training to clients and organisations across a broad spectrum of industries.
Trusted by Leading Businesses

We deliver Train the Trainer programmes for leading Irish and international organisations of all sizes. Our professional approach, consistent success rate, and expert trainers instil confidence in our clients.
Trusted For Train The Trainer By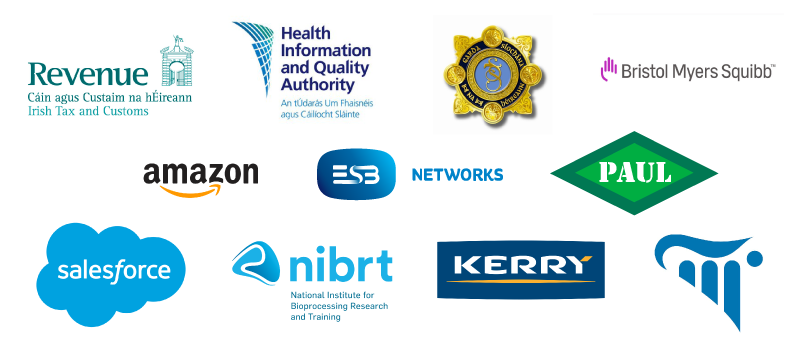 What clients say about our Train the Trainer Online Courses
Here's what some of our recent participants on live virtual Train the Trainer courses had to say about their experience.
The format of the course was excellent. The trainer's pace was perfect and the breaks were timed to perfection. She is an amazing trainer and her obvious experience really was evident throughout. For me personally, the course was perfect so I don't have any suggestions as to how it could be improved.

I was apprehensive at first doing both the Training Delivery and Evaluation and Training Needs Identification & Design courses back-to-back virtually. However I didn't need to worry as the training courses were so well organised. I had the same tutor for both courses and she was brilliant. She made all the trainees feel at ease with the pace of the training perfectly timed. Although, our tutor and my fellow trainees didn't actually physically meet, it didn't really matter as we all got to know each other and we even set up WhatsApp groups at the end of both courses so we could keep in touch. I wouldn't have a problem doing a virtual training course again after my positive experience with Professional Development.

I found the course was delivered at a good pace, instructor very helpful, course content relevant to my current position. I was nervous about the virtual delivery as my computer skills are basic but found it easy to use and the trainer engaged with everyone throughout the course and the scheduled breaks were ideal in length to allow us adequate time away from computer screen.

I can't think of anything to improve. It was my first virtual course and it was a learning experience to see how the trainer delivered the course so professionally.

There was a warm and welcoming environment, great group discussions and everyone participated. Great pace. I always remember the class discussions and the other participants' inputs.

So, I was pleasantly surprised with the virtual delivery format and how well it facilitated both class discussions and group breakout sessions. At times it felt like I was in the classroom.

Book your Train the Trainer Online Course
Our Training Delivery & Evaluation Course ("Train the Trainer") runs every month as a live virtual training. There are a limited number of spots on each date, so we recommending reserving your place as early as possible.
We're currently offering 25% off our classroom training prices, so you can secure any of the dates below at a reduced rate of €484. This includes:
4-day virtual course with our experienced trainers.
Support materials (slides, reference materials, QQI assessment guidelines).
Your QQI assessment and certification costs.
Instantly Reserve a Provisional Place
22nd of June 2020

2 places left

Virtual Classroom
Reserve
21st of July 2020
Virtual Classroom
Reserve
17th of August 2020
Virtual Classroom
Reserve