Lean Six Sigma Certification: Your 2022 Guide
Originally published April 2019. Updated September 2022.
Lean Six Sigma certification is one of the smartest moves you can make right now, no matter where you work.
With businesses of all types and sizes seeking ways to do things more efficiently, save money, and maintain the quality of their services, process improvement is one of the most valuable skillsets you can possess.
This article is designed as your complete introductory guide to lean six sigma certification. We explore some of the benefits of getting certified, answer the most frequently asked questions, and give you guidance on getting started.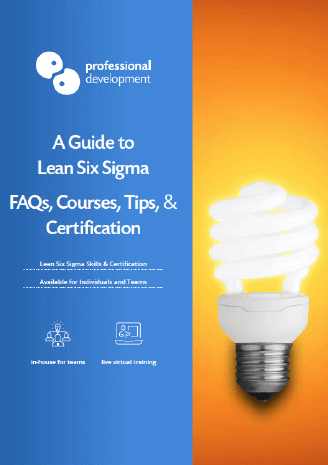 Download a PDF Copy
To save this information, you can instantly download a PDF copy of our Guide to Lean Six Sigma Certification and Courses.
It includes information from this article, plus extra resources on understanding lean six sigma roles and belts.
Jump to any Section:
"Lean six sigma" or "six sigma" certification?
You may see "lean six sigma" and "six sigma" certification being used interchangeably as you research which qualification is right for your next step.
What is the difference between "lean six sigma" and "six sigma"?
Lean and Six Sigma are two separate methodologies that originated in different places, at different times.
Lean is focused on eliminating waste from and streamlining a process. Six Sigma works to reduce errors and keep quality consistently high.
Both approaches work to improve processes and quality in different ways. When combined, they become a powerful transformational tool for any business.
As outlined in an excellent article by Grey Campus, the very nature of Lean and Six Sigma means that they can, and should be used together within a business. (source: Grey Campus)
For this reason, most well-rounded certification programmes in process improvement will incorporate both methodologies.
Some certifications focus almost exclusively on Six Sigma. However, to gain optimum benefit and a confidence to implement real change and improvement, we recommend choosing a course that includes at least some focus on Lean.
Our Tip:
Rather than going by the course name alone, we recommend taking a look through the course content outline.
Sometimes, a course may be titled "Six Sigma", but will also include useful modules on Lean.