Why is Project Management Important?
Originally published November 2020. Updated March 2022.
The importance of project management cannot be overstated. However, we will give it our best try!
The term "project management" is used frequently and in general terms throughout our working vocabulary. It's easy to take for granted the crucial role this skillset plays in the success of all our endeavours.
We tend to think of project management as something done by project teams, tucked away in an isolated office of large organisations. This isn't the case.
Project management influences almost every area of your working life. It's becoming more and more central to how everything moves forward.
In fact, Teamwork's excellent article, also called "Why is Project Management Important?" tells us that global consultancy firm, Bain & Company have projected that by 2027 nearly all work will be project based.
Why is project management important? What makes it such a crucial part of every successful business?
Let's Explore...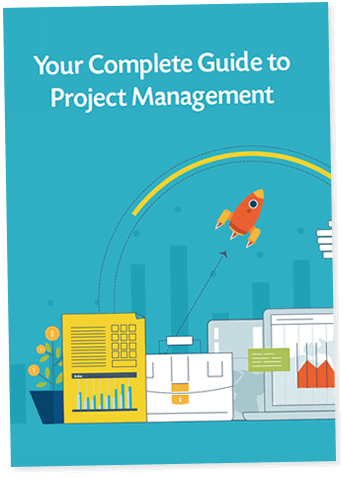 Get a PDF Guide
You can instantly download our PDF Guide to Project Management using the buttons below.
This 16-page guide includes key information on the role of a project manager, benefits of good project management, and how you can get started.
What can we call "a project"?
A project is a task or undertaking outside of usual operations, that has a planned goal or outcome within a defined timescale.
You're probably managing projects you don't even realise are projects.
Often, we visualise projects as large scale subjects such as construction, rebranding, business relocation, or running large events.
It is useful to consider that projects may encompass smaller initiatives that can benefit from a structured approach.
Some smaller scale projects include:
Creating a project proposal
Improving any process in your environment
Implementing new software systems
Building a website
Smaller projects tend to involve fewer resources (team members, materials, budget) and are run over a shorter timeframe.
They still require skilled and structured management from planning to completion.
What are the benefits of good project management?
"Good" project management could also be termed "successful" project management. A well-run project can yield so many benefits. Let's take a look at the top 8:
1. Reduces risk
All structured project management approaches will incorporate an element of risk management.
Through evaluating potential risks and planning appropriate contingencies, you lower the odds of encountering anything that can derail your project's success.
2. Provides focus
Project management is a solid structure you can rely on to take you from an idea to achieving your goal.
Through following a good project management framework, you'll stay on task and focused on completing your planned work.
3. Creates consistency
Many organisations have a preferred project management methodology such as PRINCE2®, Agile, or the Project Management Institute (PMI)® framework.
In fact, we're seeing more and more project managers and organisations choose a hybrid approach of predictive and adaptive project management.
Whatever the choice, project teams working with the same structure throughout an organisation will create a culture of consistent work and standards.
4. Improves quality
Quality management is an important part of any project management approach.
Utilising project planning, you will improve the quality of your work, and of your products or services.
5. Boosts morale
Working as part of a dynamic, successful project team is very rewarding.
You'll gain a sense of satisfaction from every goal achieved, every project completed.
6. Savings (Time & Money)
Through a combination of skilled scheduling and cost management and a focused approach to monitoring and controlling the project, you'll achieve your goals on time and within budget.
7. Strategic Planning
Over time, diligent project management allows you to know what's achievable within your organisation.
It can also support your plans for the future.
8. Promotes continuous improvement
Most project management methodologies incorporate an opportunity for reflection at the end of each project lifecycle.
This enables your teams to continually improve how they work.
How can you ensure successful project management?
Gaining a confident understanding of your chosen project management methodologies is extremely important.
While many people can have success by using an informal or instinctive approach to running projects, without a proven structure and toolkit, you'll never be sure of how much you're missing out on.
Begin with what interests you most or what will have the biggest positive impact on your current role.
Most project managers today work with several different methodologies, so there is no need to feel tied to just one approach.
Here are some popular options:
Our Certified Project Management Course is an excellent choice for those who want to begin with a very practical approach.
Get Course Brochure
•
View Course
PRINCE2® - Mandated in Many Organisations
If your current company – or a company you would like to work for – uses PRINCE2 for their project work, begin here.
PRINCE2 is a really great choice for anyone who has a need for structure and scalability in their project management tools.
Get Course Brochure
•
View Course
The PMI is one of the largest and best-known project management associations globally. Their Project Management Professional (PMP)® and Certified Associate in Project Management (CAPM)® certifications have long been on our bestseller list for training.
Get CAPM® Course Brochure
•
Get PMP® Course Brochure
Our Agile and Scrum Courses have grown rapidly in popularity in the past 5 years.
These responsive approaches to project management are invaluable for projects that require early value delivery or have difficult-to-define criteria.
Get Agile Master Course Brochure
•
Get Scrum Master Course Brochure
Why is project management important?
You've probably guessed by now but in summary, project management is important because it gives you better control over the results of your work.
It's essential for optimising the resources you have and keeping both eyes on your goals.
It's not restricted to any one industry or even a team within a company. These days, project management is needed everywhere.
If you would like some expert guidance on the best way to get started on developing your project management capability, our training consultants can help.
Call us at Freephone 1800 910 810 or Dublin 01 816 0700 to discuss your priorities and goals for project management training and certification.
Alternatively, you can request a call back from our team or ask us a question online below.