Why it's time to get Lean...
Published, October 1st 2020
It's an understatement to say that between Brexit and Covid-19, Irish businesses have faced significant challenges in the past few years.
In fact, it's probably true that your business or the role you work in has changed dramatically since January 2019.
Why does this make it a perfect time to "get Lean"?
To be clear, we're referring to Lean Six Sigma and not the absurd suggestion of stepping away from the lockdown banana bread!
Lean Six Sigma is a process improvement methodology that has become even more crucial for Irish businesses in recent years.
While we can't control what's going on in the world around us, process improvement methods like Lean Six Sigma can help us to take charge of optimising our business.
Learn more about Lean Six Sigma in our comprehensive "What is Lean Six Sigma?" article.
The world is changing rapidly these days. For a business to survive – and hopefully thrive – it must be streamlined, innovative, and responsive.
In this article, we'll look at each of these key characteristics, examine where Lean Six Sigma is most effective, and what it means for your career and your business.
Jump to Any Section
Streamline, Innovate, Respond
Let's take a look at why these 3 characteristics are so important for a healthy business right now, and where Lean Six Sigma fits into the picture.
Streamlined: operating in the most efficient way possible, minimising waste and optimising resources.
Innovative: continually coming up with creative solutions and better ways to do things.
Responsive: able to react quickly and positively to change.
Streamlining is the essential foundation where Lean Six Sigma becomes relevant (see "Streamlining to Survive & Thrive" below).
Lean Six Sigma creates space for innovation and encourages a culture of always finding new and improved ways to operate.
Although Agile is most closely associated with the ability to respond well to change, Lean Six Sigma helps you to develop reliable approaches to adapting how you work. The two methodologies of Agile and Lean Six Sigma often go hand in hand.
Streamlining: The Foundation of Lean Six Sigma
In challenging times, the bottom line becomes more important than ever and perhaps the flow of new business slows a little (or a lot).
Streamlining your organisation can mean the difference between remaining healthy, simply scraping by, or even closing your doors altogether.
Lean Six Sigma can:
Identify and eliminate areas of waste
Support the creation of innovative new ways to do things
Improve the quality of your work and products or services
Save costs and increase profits
Improve productivity and morale
Understanding how to use Lean Six Sigma and applying it to your business can give you back control in a rapidly evolving business environment.
Does Lean Six Sigma work for all businesses?
Yes. Lean Six Sigma is relevant everywhere.
From boardrooms of large multi-national organisations to the start-up in your box room, Lean Six Sigma methods and approaches can support you in creating a smart, efficient, innovative business from the word "go".
Lean Six Sigma comes from the manufacturing sector originally but has, in recent decades, been adopted in all areas of business and industry.
To give you an idea of the broad cross-section of Irish and multi-national companies using Lean Six Sigma, here are some of the businesses that trust us for Lean Six Sigma training: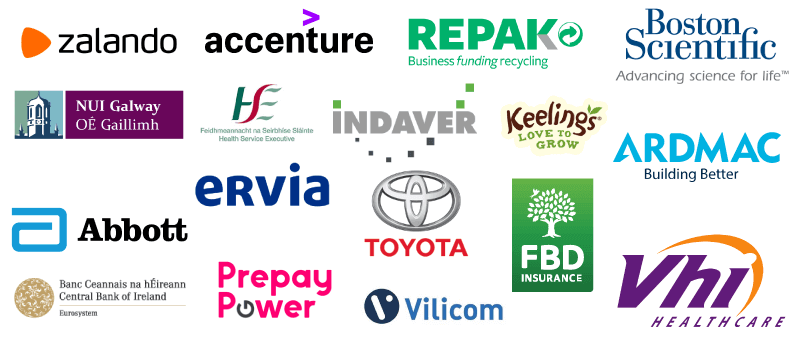 Expanding Your Career Options with Lean Six Sigma
Lean Six Sigma is as relevant to individual careers as it is to businesses.
If you want to explore other options, have found yourself in search of a new position, or are seeking to make more of a difference in your current role, it's time to consider Lean Six Sigma.
People who naturally gravitate to Lean Six Sigma and process improvement are often:
Project managers and project team members
Business owners
Managers, team leaders, supervisors
HR personnel
Anyone with the ability to influence their working environment
Those who enjoy the challenge of problem solving through structured approaches
Where should you begin?
Your first step into Lean Six Sigma depends on your level of interest and your experience.
Get Confident – Lean Six Sigma Green Belt
If you're very interested in getting confident with Lean Six Sigma, we recommend starting with a Lean Six Sigma Green Belt.
Lean Six Sigma Green Belts are those who are knowledgeable and confident in using Lean Six Sigma methods.
They can run process improvement projects and contribute to higher-level, Black Belt projects.
This is a very popular option for project managers and anyone who wants to lead process improvement in their organisation.
Our Green Belt Course runs every month as live virtual training, and is one of the most sought-after courses we offer. It's 5 days in length (with a break midway through) and is delivered online as live virtual training.
Get an Introduction – Yellow Belt
If you would like an introduction to Lean Six Sigma and want to understand its fundamentals, begin with a Lean Six Sigma Yellow Belt.
Yellow Belts understand how Lean Six Sigma works and can contribute to process improvement projects running in a business.
They can also run small-scale yellow belt improvement initiatives within their own sphere of influence.
Project team members, managers, and business owners often choose our Yellow Belt Training.
Our Lean Six Sigma Yellow Belt course runs every second month online. It's delivered over 2 days and is a live virtual course.
Get Advanced Skills – Black Belt
If you are already in your stride with process improvement and Lean Six Sigma, you may wish to consider a Lean Six Sigma Black Belt.
Black Belt is the right choice for experienced process improvement practitioners. It's the only Lean Six Sigma course we offer that has eligibility requirements.
You can learn more about our ASQ Certified Six Sigma Black Belt (CSSBB) programme by downloading our PDF brochure or visiting the Black Belt course page.
Creating a Lean culture to get the best from your business
If you're reading this article and wondering about how Lean Six Sigma would work in your company, a custom, in-house programme could be exactly right for you.
We offer customised Lean Six Sigma programmes for businesses of all sizes and types. Here's how it works:
Consultation




Begin by getting in touch with us to discuss what will work best for your business.

Our ASQ Black Belt Certified Director of Training can advise on the right strategy for introducing Lean Six Sigma to your team and your culture.

You may wish to make a solid start with a Lean Six Sigma Green Belt programme or begin with an introductory Yellow Belt workshop.

Customisation




Customisation is one of the key advantages of in-house training.

As we will be delivering training exclusively to participants from your organisation, we can tailor the content and focus around what's most relevant to your business.

This often includes working actively on a process that requires improvement during training.

Delivery




We deliver training on dates you choose, either in person (we come to you) or online (live virtual training).

Live virtual training is a great choice for teams currently working remotely. It's a wonderful resource for keeping teams both connected and productive while working from home.

Progression




Following your initial training, you may identify areas in Lean Six Sigma that you would like to explore further.

We offer short, 1 and 2-day workshops in Lean Six Sigma focus areas, such as Lean Problem Solving, Process Mapping, and FMEA that work well in this situation.

If you have personnel that could progress to a more advanced knowledge and certification, we can offer a progression workshop, or these participants can attend one of our public live virtual courses.