Your Guide to Train the Trainer Courses Galway
Our Train the Trainer Courses Galway are available for anyone to attend.
We run scheduled public course dates throughout the year and deliver tailored, in-company training to clients all over Galway.
This short article is a guide to help you get started with your Train the Trainer course and certification.
If you have any questions that we don't answer here, we would love to hear from you. You can reach us by phone (Freephone 1800 910 810) or by asking a question online.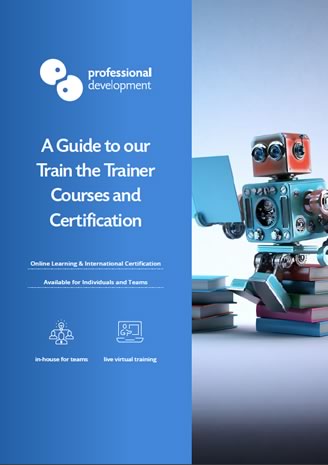 Download the Full Guide
You can instantly download our 20-page PDF Guide to Train the Trainer Courses and Certification.
It includes important information about Train the Trainer certification, tips on choosing the right course, and answers the most frequently asked questions about Train the Trainer.
Download Guide
Jump to Any Section:
Connect to Train the Trainer from Galway
Our public Train the Trainer courses run throughout the year as live virtual training.
This means that you will be able to connect online to a real-time Train the Trainer course delivered by our experienced trainers from wherever you are based in Galway.
Joining our live virtual training is easy. All you need is a steady internet connection and a device (computer, tablet, or smartphone) with a web camera and microphone.
What our Students Say
Here is what some of our students had to say about their live virtual training experience:
"I love that the course is now available online – and don't see any ways to improve it. [Virtual training] was different experience and I would be keen to see more online courses going forward."

"Although, our tutor and my fellow trainees didn't actually physically meet, it didn't really matter as we all got to know each other and we even set up WhatsApp groups at the end of both courses so we could keep in touch."

"I was nervous about the virtual delivery as my computer skills are basic but found it easy to use and the trainer engaged with everyone throughout the course and the scheduled breaks were ideal in length to allow us adequate time away from computer screen."

"I was pleasantly surprised with the virtual delivery format and how well it facilitated both class discussions and group breakout sessions. At times it felt like I was in the classroom."