Finding the Right Train the Trainer Course in Ireland
As our Train the Trainer courses are so popular, you will find participants from all over Ireland on every course date.
This short guide to Train the Trainer Courses Ireland is a quick introduction to the courses available, how you can find the right option for your training and certification, and upcoming dates available.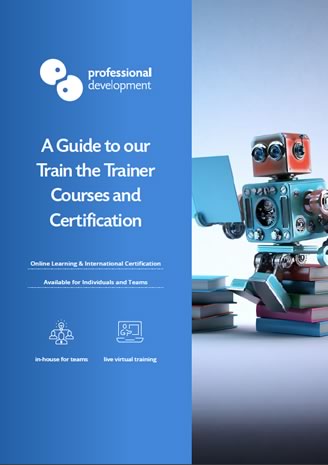 Download a Guide
For a more in-depth look at Train the Trainer, we recommend downloading our 20-page PDF guide.
This guide contains all the information you need to get started, including: what is train the trainer?, characteristics of a good trainer, choosing the right course, and how to get certified.
Get a Guide
Table of Contents:
Is Train the Trainer Right for You?
These courses are attended by participants from many different backgrounds, with varied training goals.
We recommend Train the Trainer for anyone who:
Wishes to become a professional trainer
Trains other people as part of their existing role
Would like to introduce training as an additional asset to their skillset, CV, or business offering
For example, here is a sample of some of the industries our students have come from in the past 6 months:
Healthcare
Finance
Fashion
Retail
Beauty & wellness
Pharmaceuticals
Hospitality
IT and cloud services
Travel & tourism
Education
Government agencies
Energy supply & utilities
Customer & support services
Agriculture
Executive consultancy
Medical devices
Transportation & logistics
No previous experience with training is needed.
The skills you will gain are very versatile and can be applied to any subject area where you have experience and knowledge.
Our Train the Trainer Courses Ireland
Our public Train the Trainer courses run throughout the year. These courses have frequent dates and are available for anyone to attend.
QQI Training Delivery and Evaluation ("The New Train The Trainer")
Sometimes called "The New Train The Trainer", Training Delivery and Evaluation is very similar to the old Train The Trainer FETAC Level 6 award.
This course covers essential training delivery skills and teaches you how to evaluate the effectiveness of each session you deliver.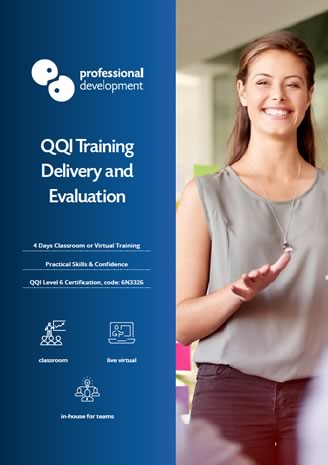 QQI Training Needs Identification and Design
During our Training Needs Identification & Design course, you will learn how to accurately identify training needs by carrying out a training needs analysis (TNA).
You will also learn to use this information to design training programmes that are both effective and engaging for participants.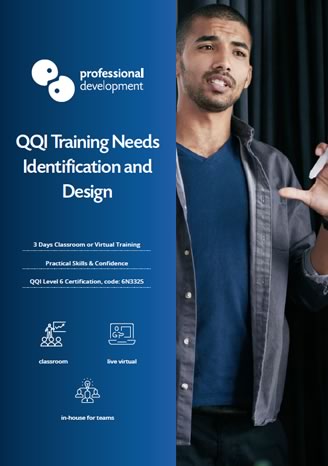 QQI Special Purpose Award in Training & Development
You can add extra credibility to your training skills by achieving this QQI Level 6 Special Purpose Award in Training & Development.
During the modules of this course, you will cover each element of the Training Cycle in detail.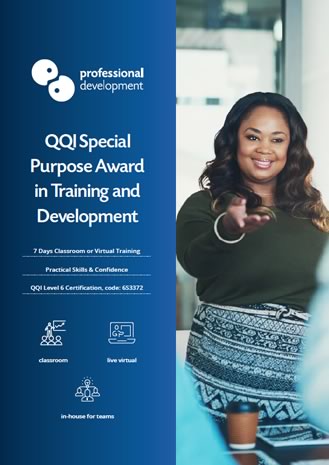 Choosing the Right Course
It can be difficult to know where to begin when working towards your Train the Trainer certification.
You will be happy to know that there is no wrong choice!
It's always good to speak with an expert, but here are our quick tips for choosing the right course:
Go for Training Delivery & Evaluation if…
You are focused on learning how to deliver training.
You have been told you need to get a "Train the Trainer" certification.
Go for Training Needs Identification & Design if…
You need training needs analysis skills.
You are a HR professional, or need to organise training for others as part of your role.
Go for the QQI Special Purpose Award if…
You are serious about training as a career path.
You want a fully-rounded knowledge of all stages of training design and delivery.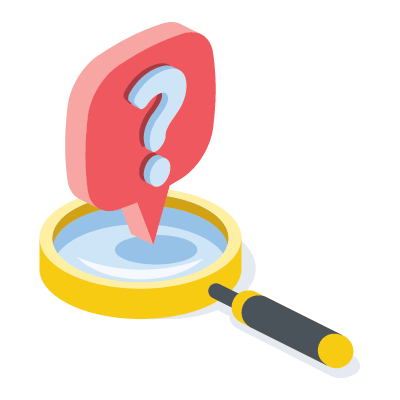 Get Advice
Our experienced consultants can offer advice specific to your situation and your career goals.
You can call us directly at Freephone 1800 910 810 or at our head office in Dublin on 01 861 0700.
If you would prefer to get in touch online, ask us a question or use the "Which Course?" button below.
Which Course?
How we Deliver Train the Trainer Courses in Ireland
We offer Train the Trainer courses for both public and in-company delivery.
Public Courses
Our public courses have scheduled dates throughout the year. They are available for anyone to attend.
These courses are delivered in a live virtual classroom style. This means that you can connect online to real-time training, where you can interact with the trainer and your classmates.
In-Company Courses
In-company training is available on-demand for groups. Organisations of all sizes, and in every industry benefit from in-company Train the Trainer programmes.
For in-company bookings, we can deliver training either in a live virtual format, or in person at your location anywhere in Ireland.
Public Course Dates
All three Train the Trainer courses are available for participants in Ireland. You can view upcoming dates for each course below.
To save a provisional place on your preferred course, click the "Reserve" button and send us your details. This will hold your place for 2 working days. We will be in touch to confirm your booking and answer any questions you have.
Training Delivery & Evaluation – 4 Days - €545
Training Needs Identification & Design – 3 Days - €449
QQI Special Purpose Award – 7 Days - €994
In-Company Training for Teams in Ireland
Each of our Train The Trainer courses is available as a tailored, in-company programme. This means that we would come to deliver the training at your location (or a venue of your choosing) anywhere in Ireland.
Choosing in-company training gives you date flexibility, and is an efficient option for training many employees at the same time.
The in-company pricing structure also means that it's often more cost-effective to choose in-company when you have several candidates for Train The Trainer.
Click the "Get a Quote" button below to find out more about in-company training options and to request a quotation for your business.
Get a Quote
More Resources
Read our Top Articles
Our Train the Trainer blog is regularly updated with helpful articles and guides for those who want to become a professional trainer. Here are 4 articles we recommend reading next:
Get a Guide to Train the Trainer
Our PDF guide to Train the Trainer is an excellent companion to have handy while you research and work towards achieving your qualification.
You can download this 20-page using the button below.
Get a Guide
Ask for Advice
There is a lot to consider when planning to train and get certified. We are here to answer any of your questions about Train the Trainer.
Contact us by phone or ask a question online using the buttons here: