Are You Ready to Become a Six Sigma Black Belt?
Originally published, 2018. Updated January 2022.
Becoming a Six Sigma Black Belt can transform your working life. It will present you with exciting new challenges and opportunities.
Skilled, certified Black Belts are extremely valuable in every sector. Deciding to get a Six Sigma Black Belt certification is a truly wise move for anyone experienced in process improvement.
We have seen such enthusiastic adoption of Lean Six Sigma and process improvement in the past decade, both in Ireland and internationally. Businesses everywhere need Six Sigma Black Belts to lead their organisations towards optimal performance.
This prompts one of the most common questions we hear about getting Black Belt certified: "Am I Ready?".
We've compiled this article as a quick guide and checklist to help you answer that question and get started on the next step for your process improvement career.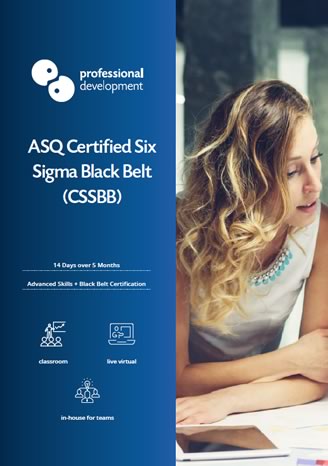 ASQ Certified Six Sigma Black Belt (CSSBB)
Our training prepares you to achieve the internationally respected ASQ Certified Six Sigma Black Belt (CSSBB) qualification.
You can learn more about our unique programme by downloading our PDF brochure.
Covered in This Article
Remind Me About Black Belts…
Before you embark on a training and certification journey to become a six sigma black belt, it can be helpful to review the role and its characteristics.
Six Sigma Black Belts are masters of process improvement. They possess a very advanced knowledge of how to utilise six sigma tools and run successful process improvement projects.
Black Belts work at a cross-functional level, overseeing projects and initiatives of all sizes. They will also mentor and support other belt levels (yellow and green) in achieving their goals.