Why Achieve a Special Purpose Award?
Originally published, 2015. Updated, April 2022.
"Special Purpose Award" is a category within the QQI portfolio of award types. It is an award given for areas of skill that have a very specific and clearly-defined purpose.
The QQI Special Purpose Award in Training and Development is probably the best-known of all QQI Special Purpose Awards.
Why is it so popular?
It encapsulates the two courses that fall under the "Train the Trainer" heading.


It is widely recognised and respected.


It equips those who have completed the programme with the essential skills and knowledge needed to be successful as a professional trainer.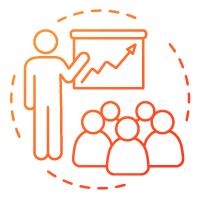 Achieving this Special Purpose Award in Training and Development is a way to show potential clients and employers that you hold a full spectrum of training skills.
In this article, we explore reasons to achieve this qualification and how you can reach this goal.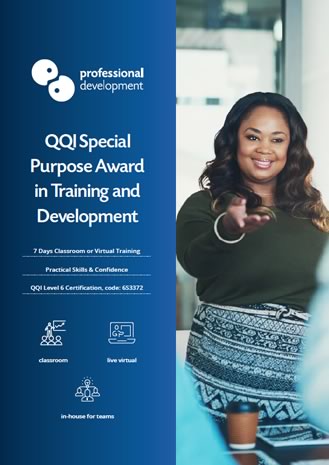 Get a Detailed PDF Brochure
Get an in-depth look at this QQI Special Purpose Award instantly by downloading our PDF brochure.
The brochure includes detailed information about the award, how you can achieve it, and how we run our prorgamme.
Covered in this Article:
What skills are covered in this award?
Before we get into the benefits of this particular award, let's take a high level overview of how it is structured. (For full details, we recommend downloading our PDF brochure).
The QQI Special Purpose Award in Training & Development is comprised of two components:


These components are designed to cover each stage of the Training Cycle, a framework that supports a best-practice approach to training. There are 4 stages in the Training Cycle:
Stage 1: Identify training needs
Stage 2: Design training programme
Stage 3: Deliver training programme
Stage 4: Evaluate training outcome
In a nutshell, the cycle covers all elements needed to provide a meaningful and effective learning experience for students.
Gaining the Special Purpose Award will give you confidence and competence in all four steps of this cycle.
You can read about this in more depth by heading over to our article, "Master The Training Cycle".