12 Qualities of a Good Trainer
If you're thinking about becoming a trainer or train others as part of your role, it's helpful to reflect on the key skills required in this role.
The 12 qualities we outline in this article will give you a clear picture of what it takes to be a good trainer.
You'll also get a sense of what's involved in the day-to-day work of a trainer, so that you can make an informed decision about whether it's the right role for you.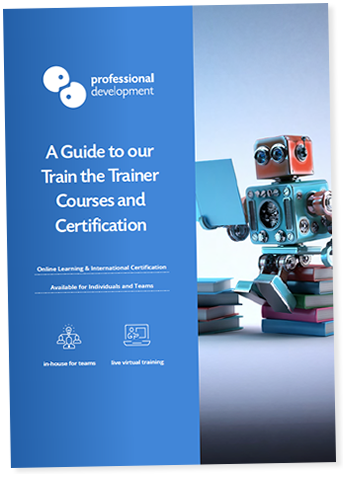 Get an Instant Insight
Get our free PDF Guide to Train the Trainer Courses & Certification to learn more about what makes a good trainer and how you can become one.
You can download the guide using the button below.
Download Guide
Jump to any Section
12 Qualities of a Good Trainer
1. Training Needs Analysis (TNA):
A professional trainer needs to be able to identify training needs successfully for clients and trainees.
2. Strong Organisational Skills:
Trainers must always be organised and well-prepared for training delivery.
3. Versatility:
Be ready to change and adapt to working in different situations and environments.
4. Confident Delivery:
There are many aspects to successful training delivery. Professional trainers will have a confident style of training delivery that ticks all of these boxes.
Tip: You can learn more about what's involved in great training delivery in the "Course Content" section of our QQI Training Delivery & Evaluation brochure.
Download Brochure
5. Focus:
When you are training a group in any subject, you must have the ability to remain focused in order to achieve your goals and cover the planned material.
6. Training Design Skills:
Professional trainers should also know how to design effective and engaging training programmes.
Tip: This is a core focus of our QQI Training Needs Identification & Design Course. Learn more in our PDF brochure.
Download Brochure
7. Think on Your Feet:
Trainers need to be able to handle difficult situations and complex group dynamics to keep things running smoothly.
8. Subject Matter Expert:
Whatever you train, you must understand well. In addition to being familiar with the delivery materials (slides, videos, exercises etc.), you must also have a strong enough comprehension to answer questions on the subject.
9. Excellent Communication:
Communication is at the core of all training delivery. This incorporates spoken, written, active listening, and comprehension communication skills.
10. Patience:
People learn in different ways and at different speeds. When training others, it is essential that you are patient and inclusive.
11. Time Management:
Good time management habits are the secret weapon of effective, efficient trainers.
12. Evaluation Techniques:
For your benefit and that of your trainees, you will need to understand how to evaluate the outcome of your training sessions.