How to Be a Good Manager: 10 Ways
Updated October 2021. Originally published, May 2015.
Management is one of the most challenging roles anyone can undertake.
In fact, many people become managers because they are good at their job, not necessarily because they have any management experience.
You might be surprised at how many leaders – both new and experienced – wonder if they have good management skills.
We wrote this article as an introductory guide to understanding how to be a good manager, with tips and insights on getting there in the most efficient way possible.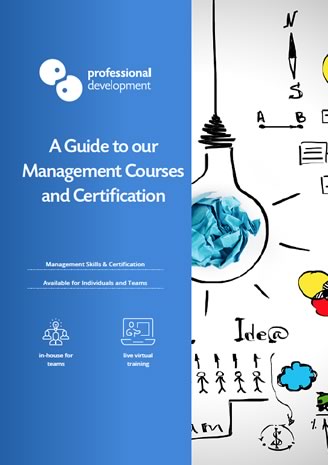 How to Get the Best from this Article
We have given you our best tips on how to boost your management game and ways to put these hints into practice immediately.
You can also use the "Download Guide" button below to get a copy of our PDF Guide to Management.
This guide includes helpful tips on how to be a good manager and extra information on how you can get trained and certified.
Download Guide
In This Article:
What makes a good manager? (the most important factor)
The most effective managers never consider themselves at the top of their game.
These are the managers who continue to evaluate their own performance and build on their existing strengths through training and self-led study.
A good manager is continuously in a cycle of reflection and up-skilling.
10 Ways to Be a Good Manager
These 10 good management skills are non-negotiable for managers of all levels and in every field.
1. First and foremost, be a leader
People are more productive when they are motivated and inspired. That's why the best managers lead by example.
They encourage their teams to achieve consistently and demonstrate a positive, productive attitude.
2. Master Time Management Skills
Do you ever feel like the day just gets away from you and you can't achieve what you need to?
Getting to grips with time management will ensure you have time to complete essential tasks and provide your team with support.
3. Keep an Open Mind
Listen to your team's ideas. Be open to suggestions and alternative approaches to a project.
Not only will you empower your team, but you may also find the most unique, efficient way to accomplish the task at hand.
4. Be Clear
Deliver a clear message about where your team's focus should lie.
Set goals, underline priorities, and support your team in maintaining focus to keep energy and productivity high.
5. Address Conflict
Conflict and difficult conversations are certainly not the most pleasant aspect of being a manager.
However, understanding how to deal with conflict and maintaining a proactive approach to handling sticky issues will help your department run smoothly.
6. Communicate, Communicate, Communicate...
A team kept in the dark will quickly lose motivation and direction.
It's important to keep your team informed of events and encourage an open channel of communication with each team member.
7. ... But don't forget to Listen
Part of great communication is taking time to really listen to what others say.
By giving your colleagues the respect of listening attentively, you'll build strong relationships and understand their point of view.
8. Invest in your Team
Take time to give regular feedback sessions. Check in with how each team member is feeling and address any challenges they may be facing.
They will appreciate your support.
9. Identify Strengths & Areas for Improvement
This reflective skill applies to your team and to you as a manager.
By understanding where your strengths lie, you can use them to advantage and work on areas for improvement.
10. Continuous Professional Growth
The minute you stop learning, you stop growing in skill and expertise as a manager.
The most successful managers continually invest time and effort in personal and professional development through training.
What makes a bad manager?
We won't focus on the negatives for too long here, but it is useful to know what to avoid in your management role.
ProofHub's detailed article, "What Makes a Good Manager" highlights classic management pitfalls to avoid. These include:
Micromanagement
Spoon-feeding
Lack of clarity
Egotistic Leadership
Favouritism
In complete agreement, we would also add the following to this list:
Stagnation:

This refers both to your ability to evolve and keep an open mind for new ideas and your commitment to continually honing and developing your management skills.

Avoidance:

Sticking your head in the sand about underperformance, conflict within the team, or demotivation will only make these problems worse.

Lack of structure:

Managers have a lot to do, many plates to spin on a daily basis.

Creating a reliable structure for your day-to-day and how you handle certain tasks can mean the difference between organisation and chaos.
Action Plans: How Can You Achieve a Quick Win?
How are you going to achieve the good management skills you seek?
Here are 5 action points to get you started on the road to being the best leader you can be.
1. Time Management
Begin tracking how your time is spent each day. This is an important first step towards managing your time efficiently.
Once you have a week or so of data, you can begin to spot areas for improvement.
2. Invest in Your Team
Set up a 1-to-1 meeting with each member of your team. If possible, make this a regular occurrence.
These sessions can be extremely productive for new ideas, solving problems, and boosting morale throughout the team.
3. Be Clear and Communicate
To avoid confusion, learn how to communicate current priorities clearly to your team.
Invest time in learning effective communication skills that will make your job – and everyone else's – easier.
4. Identify Strengths and Areas for Improvement
Schedule time to review each aspect of your role, your team, and your department.
What's working well? What can be improved? What are the action points you can take away?
Continuing evaluation is always, always, always productive and always necessary.
5. Continuous Professional Growth
Without proper training and support, it can be difficult to develop good management skills.
Invest time and resources in training both for you and your team.
You can browse our most popular courses for managers below or get in touch with our team directly to ask which is the right fit for your next management training step.
How to improve your management skills quickly
The guidance and structure you will gain from attending training will make a lasting improvement to your management skills.
Here's a quick look at our 4 most in-demand management courses:
QQI Certified - Managing People Course
3 Days - €575 (including QQI Certification)
This practical, 3-day workshop covers the theory of strong management skills and the practical aspects to being a motivational leader.
It also leads to a respected QQI Level 6 certification in Managing People (award code: 6N3945).
QQI Certified – Coaching for Managers
4 Days - €575 (including QQI Certification)
This course is perfect for those who want to learn how to coach each member of their team on a 1-to-1 basis.
You will gain confidence in carrying out coaching sessions that support individual staff members to achieving their best performance.
This course leads to a QQI Level 6 Certification in Coaching Models of Practice (award code: 6N3087).
Uncertified - Management Skills
2 Days - €375 - Practical Skills
This 2-day Management Training Course runs alongside the first two days of our 3-day QQI Managing People Course.
We recommend this course for those who want to gain effective management skills, but don't want to achieve a certification.
QQI Certified Project Management Course
4 Days - €595 (including QQI Certification)
This course is for any managers who either work on projects or lead a project team.
Participants on this 4-day course will gain practical project management skills that they can adapt to any situation.
This course also leads to a QQI Level 6 Certificate in Project Management (award code: 6N4090).
Get Advice on Management Courses
Talk to one of our training consultants about which course will work best for your management training.
You can reach us by phone (Freephone 1800 910 810) or by using the buttons below to get in touch online.