Your Guide to Train the Trainer Courses Dublin
We run Train The Trainer Courses in Dublin all year-round. Our Dublin courses are extremely popular, and we have limited places available on each date.
Although we often add extra dates due to demand, it is not always possible, so we strongly advise booking early to secure your place.
This short article will give you a quick introduction to our Train the Trainer courses in Dublin and provide you with links to further information and resources.
Get our PDF Guide
Download our PDF Guide to Train the Trainer instantly using the button below.
This 20-page guide is a complete introduction to Train the Trainer, including benefits, tips on choosing the right course, past student testimonials, and your path to certification.
Get a Guide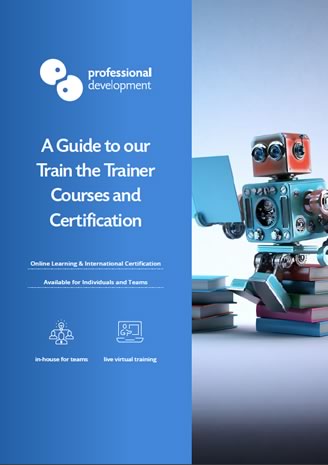 Jump to Any Section
5 reasons to choose Train the Trainer
Train the Trainer has consistently been our most sought-after course and certification for more than a decade.
There are many reasons why this training programme and qualification are in demand. Here are our top 5:
Gain Confidence Training Others

The practical style of learning on Train the Trainer courses helps to develop confidence in your abilties, while expanding your skills.

Achieve QQI (FETAC) Certification

QQI (previously FETAC) certifications are placed on the National Framework of Qualifications (NFQ) and are widely recognised and sought-after by employers.

Understand The Training Cycle

Skilled trainers possess a strong knowledge of "The Training Cycle", which is each stage that training must pass through to be deemed effective and successful.

Professional Skills = Professional Opportunities

To succeed as a trainer in today's professional world, you need the experience of training and a respected certification.

Get Valuable Feedback from Experts

Our courses are delivered by qualified trainers with extensive experience delivering and evaluating training in varied environments.
How our Train the Trainer courses Dublin are delivered
We offer courses for both individuals (public) and teams / groups (in-company).
Our public courses for individuals run every month throughout the year. They are available online for anyone to attend. You can view upcoming dates below.
We deliver these courses in a live virtual classroom format. This format is very similar to an in-person classroom, in that you can interact with your trainer and fellow trainees throughout.
Our in-company courses can be delivered online or in person at your location in Dublin. In-company training is ideal for companies of any size that have a number of candidates for Train the Trainer.
Understanding the different Train the Trainer courses
The term "Train the Trainer" comes from a now deactivated FETAC award. It is still used by most people when referring to the group of QQI courses that cover essential training skills.
For more detail on the origins and background of Train the Trainer, we recommend a quick read through our "What is Train the Trainer?" article.
Here is an overview of the courses available:
QQI Training Delivery & Evaluation – award code: 6N3326
Training Delivery and Evaluation is the course that most people choose to attend. It is very close in content and style to the old Train the Trainer award, which was deactivated at the end of 2014.
If you have been told to "get a Train the Trainer", it is likely that this is the award you need.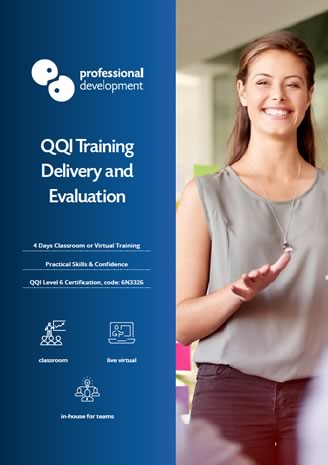 QQI Training Needs Identification & Design – award code: 6N3325
Training Needs Identification & Design is perfect for anyone who wants to learn how to carry out a training needs analysis (TNA) and to design effective training.
A large number of our students choose to complete both Training Delivery & Evaluation and Training Needs Identification & Design, which leads to a Special Purpose Award…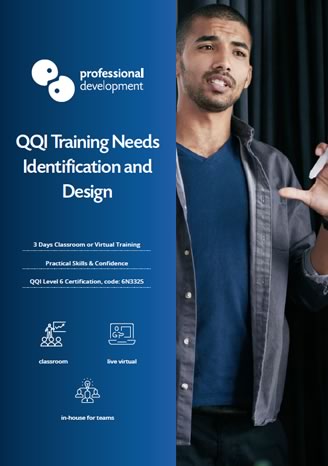 QQI Special Purpose Award in Training & Development – award code: 6S3372
When you complete both of the courses above successfully and pass their assessments, you will automatically gain the QQI Special Purpose Award in Training & Development.
This is highly recommended for anyone who wishes to train professionally, as it covers all 4 stages of the training cycle.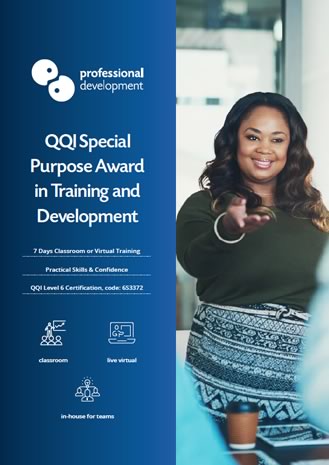 Getting started: Train the Trainer for individuals
We offer all options above for individuals and have public course dates available all year round.
Training Delivery & Evaluation has dates every month, while Training Needs Identification & Design runs every 3 months.
You can view both schedules below. Use the "Reserve" button to hold your provisional spot on an upcoming date. As both courses tend to sell out in advance, holding your spot is advised.
Training Delivery & Evaluation – 4 Days - €545
January 12, 13, 19, 20
Online Classroom
Reserve
February 1, 2, 8, 9
Online Classroom
Reserve
February 12, 13, 19, 20
Online Classroom
Reserve
March 5, 6, 8, 12, 13
Online Classroom
Reserve
See more dates...
Training Needs Identification & Design – 3 Days - €449
Getting started: Train the Trainer for teams and businesses in Dublin
In-company programmes are available on demand for businesses of all sizes.
If you have a number of people in your organisation who require Train the Trainer, get in touch. It always works out more convenient and usually more cost-effective to go with an in-company training option in these cases.
We can customise the programme's content to meet your precise needs, even offering a shorter, 2-day Train the Trainer Foundation Course for those who don't need certification.
More Train the Trainer resources
If you have any questions on Train the Trainer Courses in Dublin, we would love to hear from you.
You can get in touch directly by phone at Dublin 01 861 0700 or Freephone 1800 910 810. Alternatively, contact us online using the "Ask a Question" button below.
For further reading and information, we recommend downloading our PDF guide and / or browsing some the most-read articles on our Train the Trainer blog: