What is PRINCE2®?
Originally published, July 2018 - updated September 2022
PRINCE2 is one of the world's most popular project management methodologies. It is a reliable, flexible, and scalable way to manage almost any kind of project.
This article and its accompanying PDF Guide aim to answer the question "What is PRINCE2?" as thoroughly as possible.
We will take you through the origins, characteristics, and benefits of the PRINCE2 approach to project management. We will also guide you on how you can become PRINCE2 certified, gaining a comprehensive understanding of the methodology along with the confidence to implement it in your workplace.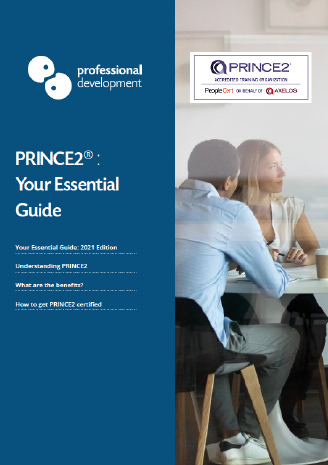 Get a PDF Guide to PRINCE2
You can get all of the information in this article instantly, plus extra material in our PDF Guide to PRINCE2.
If you have any questions about PRINCE2 we don't answer here, we would love to hear from you. You can call us (Freephone 1800 910 810) or ask a question online using the button below.
In This Article:
Origins of PRINCE2

PRINCE2 stands for PRojects In a Controlled Environment. This gives you a clue to one of the key characteristics of PRINCE2: Control, which is is also a major benefit of PRINCE2.
PRINCE2 originated in 1989 at the Central Computer and Telecommunications Agency (CCTA), now the Office of Government Commerce (OGC).
What does the 2 in "PRINCE2" stand for?
PRINCE2 was based on PROMPTII, an older project management system developed in 1975. The "II" in PROMPTII is the reason we have a "2" at the end of PRINCE2.
PROMPTII was adopted for use in all government projects in 1979. When PRINCE2 was established in 1989, it took over as the primary project management methodology for UK government projects.
In 1996, PRINCE2 was published as a project management methodology. Since then, it has been widely adopted worldwide, in both in the public and private sectors.
PRINCE2 as a Project Management Methodology
There are so many elements and stages to consider within any project. As a project manager, you'll need a methodology that supports your need to manage these elements, and guides you through each stage.

PRINCE2 makes a project ordered and structured. It sets out clearly defined roles, responsibilities, processes, and stages. It does this while remaining versatile and scalable - easy to apply to any industry or project.
Let's take a closer look at the characteristics of PRINCE2 Project Management...